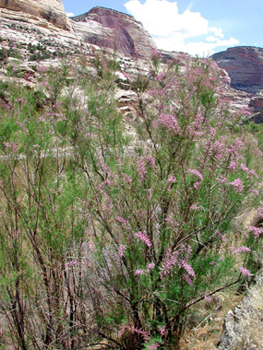 NPS
Introduction of Non-native Plants at Dinosaur
Human activities in the Dinosaur area over the past 150 years have resulted in changes to the distribution and abundance of native vegetation and contributed to invasions of non-native plant species.
The first settlers to the area arrived in the mid-1800s, established homesteads and ranches, and introduced some of the first non-native plants--grown for livestock forage--to the area. Development of roads, campgrounds, trails, boat ramps, picnic areas, and visitor centers in the 1960s further contributed to the establishment of non-native species.

Today, 75 of the 687 species of flora known in the monument are non-native. Some of these plants were introduced inadvertently by livestock, maintenance and construction activities, or visitors. Others have been intentionally introduced for food (chicory, burdock), forage (smooth brome, orchard grass), or bank/soil stabilization (tamarisk, crested wheatgrass, yellow sweetclover).