Called exotics, aliens, non-indigenous species, and weeds, the most aggressive non-native plants spread quickly into undisturbed as well as disturbed areas. These invasive plants often cause irreparable damage by upsetting the ecological balance plants, animals, soil, and water have achieved over many thousands of years.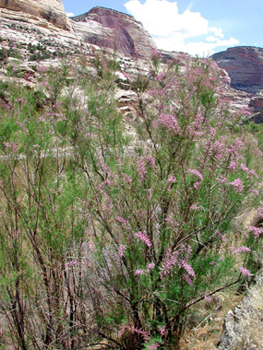 NPS
Introduction of Non-native Plants at Dinosaur
Human activities in the Dinosaur area over the past 150 years have resulted in changes to the distribution and abundance of native vegetation and contributed to invasions of non-native plant species.
The first settlers to the area arrived in the mid-1800s, established homesteads and ranches, and introduced some of the first non-native plants--grown for livestock forage--to the area. Development of roads, campgrounds, trails, boat ramps, picnic areas, and visitor centers in the 1960s further contributed to the establishment of non-native species.

Today, 75 of the 687 species of flora known in the monument are non-native. Some of these plants were introduced inadvertently by livestock, maintenance and construction activities, or visitors. Others have been intentionally introduced for food (chicory, burdock), forage (smooth brome, orchard grass), or bank/soil stabilization (tamarisk, crested wheatgrass, yellow sweetclover).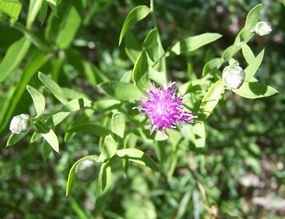 NPS
Managing Invasive Plant Species
Dinosaur began managing for invasive plant species to address: (1) the negative effects on native plant communities and associated wildlife species, (2) effects on natural river processes and aquatic resources, and (3) concerns from downriver agricultural producers regarding invasions of perennial pepperweed (Lepidium latifolium) and Russian knapweed (Acroptilon repens) into irrigated pastures.

Learn more about Dinosaur's plan to control invasive, non-native plants that threaten the monuments's natural and cultural resources.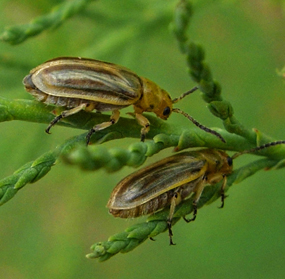 NPS
Invasive Riparian Weeds
Invasive riparian weeds have encroached in Dinosaur's river canyons. The most obvious intruders are tamarisk, also known as saltcedar, and Russian olive.
The rate of invasion is slower on the unregulated Yampa than on the altered Green. The relatively natural hydrograph enjoyed by the Yampa not only helps slow the spread of invasive plants, but it also improves the chances for successful restoration after weed removal. The Yampa also improves conservation and restoration potential on the Green below the confluence.

Beginning in 2006, the northern tamarisk beetle (Diorhabda carinulata) was released at several locations along the Green River in Dinosaur for biological control of invasive exotic tamarisk with positive results. Learn more about this program.