A coyote rustles through the sagebrush; white-tailed prairie dogs yip outside their burrows; a bighorn sheep balances on a cliff above the Green River as rafters float past below. These are just a few of the nearly 70 species of mammals that make their home at Dinosaur National Monument.
Mammal Sightings at Dinosaur National Monument
Although nearly all of the mammals at Dinosaur National Monument shy away from interactions with people, sharp-eyed and patient visitors may see several while visiting the monument.
Mammal sightings largely depend on when you visit and what parts of the monument you explore. Throughout the summer, white-tailed prairie dogs are frequently spotted by visitors to the Utah side of the monument. An early winter drive along the Harpers Corner Road, on the Colorado side of the monument, may include elk sightings. Stargazing campers at a monument campground may find themselves in the company of the nocturnal ringtail.
Should Dinosaur's mammals prove elusive, look for tracks to find out who's been around.
Keep in mind that if you come across any wildlife while exploring Dinosaur, for your safety and for the benefit of the animal give the animal plenty of space and an escape route.

Read more about some of Dinosaur National Monument's mammals below.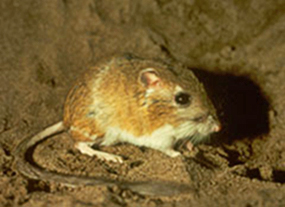 NPS
The Ord's kangaroo rat (Dipodomys ordii) is named for its large hindfeet and bipedal hopping, both reminiscent of a kangaroo. Adapted to survive in arid climates, instead of drinking, this small rodent obtains water from the seeds and plants it consumes. The Ord's kangaroo rat avoids the summer heat, remaining in its burrow during the day and becoming active only after the sun goes down.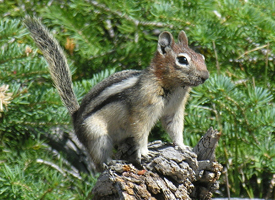 USFS
The
golden-mantled ground squirrel
(
Callospermophilus lateralis
), recognizable by the stripes running along each side of its body, is frequently seen at picnic areas and campgrounds in Dinosaur NM. When these animals are fed by people, the squirrels can become aggressive beggars, a condition unpleasant for picnickers and campers and unhealthy for the squirrels. For the benefit of the animal, never feed any wildlife at Dinosaur NM.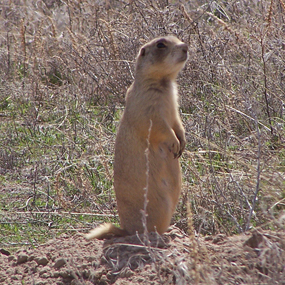 NPS
White-tailed prairie dogs (Cynomys leucurus) live in colonies and feed on a variety of grasses, forbs, and woody plants. Dinosaur is one of the few NPS sites where this species is found. Unlike the more common black-tailed prairie dog, white-tailed prairie dogs are only in western Wyoming, western Colorado, eastern Utah, and southern Montana. Scientists identify prairie dogs as a keystone species because their presence is critical to the overall health of the ecological community: their eating and digging habits conserve water, improve the soil, and create better plant variety and quality for other animals.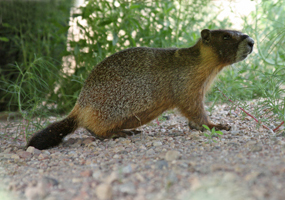 NPS
The yellow-bellied marmot (Marmota flaviventris), a member of the rodent family, is closely related to the groundhog, or woodchuck, found in the eastern United States. Yellow-bellied marmots are often associated with high-elevation, alpine environments, but, as at Dinosaur NM, they are also found at lower elevations. These animals have been spotted at sites along the Harpers Corner Road and near Jones Hole. Like their rodent cousins, the white-tailed prairie dog, yellow-bellied marmots hibernate during the winter.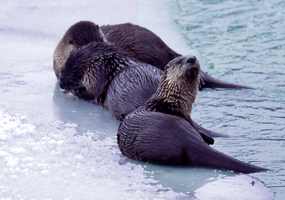 NPS
River otter (Lontra canadensis) use rivers for traveling and for finding fish, their favorite food. These playful members of the weasel family will also feed on crayfish, amphibians, birds, small mammals, and insects.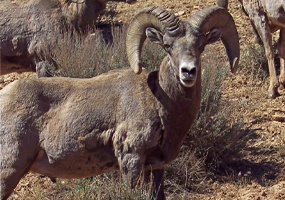 NPS
Bighorn sheep (Ovis canadensis) feed on lush vegetation in riparian areas and escape from predators in the rocky, rough terrain of the canyon walls. The males, or rams, have dramatic curled horns, sometimes weighing more than 30 pounds. The horns are used in crashing duels for dominance that can be heard from several miles away.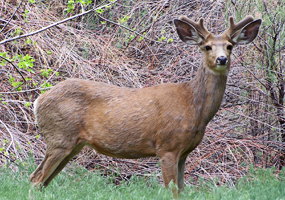 NPS
Mule deer (Odocoileus hemionus) have black-tipped tails and large ears, thought by many to resemble the ears of a mule. Dinosaur NM provides both summer and winter range for mule deer. In summer, the deer migrate to the higher country and move into lower-elevation, more protected locations during winter. The combination of sage steppe for forage, protection from harsh weather in the woodlands, and lower elevation make the Yampa Bench an important wintering area for mule deer.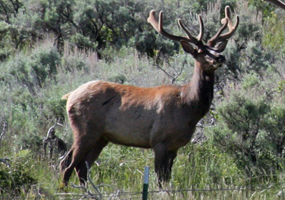 NPS
Elk (Cervus canadensis) are among the largest animals found at Dinosuar. Part of the deer family, elk are widely distributed throughout the monument. Some areas are used seasonally; other areas are used nearly all year. Elk numbers within Dinosuar have been estimated to reach or exceed 1,000 animals during certain times of the year. Like mule deer, elk begin growing a set of antlers each spring and shed them each winter.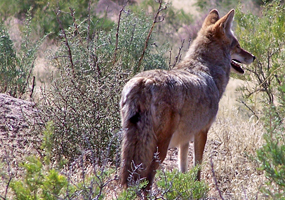 NPS
The ever-adaptable coyote (Canis latrans) is found throughout Dinosaur NM and throughout the United States. The key to coyote's adaptability lies in its willingness to eat a wide variety of foods. Although small mammals, including prairie dogs and cottontail rabbits, may be the coyote's preferred food, these omnivores (animals that eat both plants and animals) will also eat carrion (dead animals), plants, and insects. Next time you camp at Dinosaur NM, listen for the coyote's yips and howls.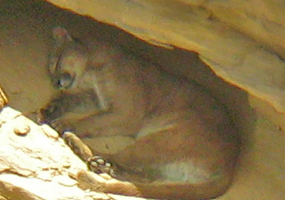 NPS/Wayne Reeb
Mountain lions (Felis concolor) feed primarily on mule deer. Because mountain lions keep the deer population at a level that prevents habitat degradation, they play an important role in maintaining biological diversity at Dinosaur NM. Mountain lions are highly intelligent, curious, and capable of traveling long distances. Although all of Dinosaur National Monument is suitable habit for this large, powerful cat, mountain lion sightings are infrequent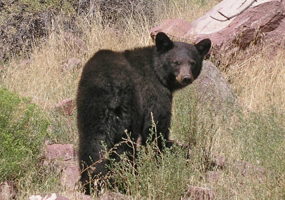 NPS
Black bears (Ursus americanus) are curious, highly mobile, and adaptable animals, but they're not always black. The fur of a black bear can range from very light to very dark. Black bears are omnivores (eating both plants and animals), but they subsist mainly on plants. Winters are spent in hibernation. Although Dinosuar NM has a resident black bear population, bear sightings are rare at the monument.
Select a Park:
Select a Species Category (optional):
Search results will be displayed here.

Visit NPSpecies for more comprehensive information and advanced search capability. Have a suggestion or comment on this list? Let us know.