Although this area was a desert, the oases scattered among the dunes allowed some plants to survive. It is extremely difficult to preserve plants in a desert environment. To preserve something as a fossil, it must be buried as soon as possible. In a desert, the heat, sand, and wind tend to destroy plant remains so soon after they die that there is no time to bury them.
Cycads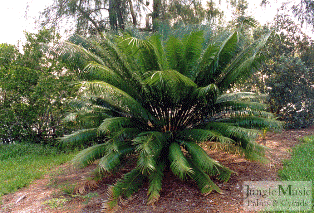 Phil Bergman

National Park Service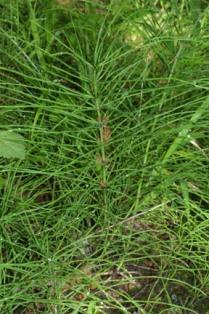 © 2004 Steven J. Baskauf,
Horsetail
The other plant paleontologists have identified is a sphenophyte, or horsetail. These plants usually grow in wet areas, so if they were present in the desert, they were probably clustered in the wetter interdune areas. Horsetails consist of a single stem with needle-like leaves at regular intervals. At the joints where the needles are placed, there is usually a rigid ring in the stem.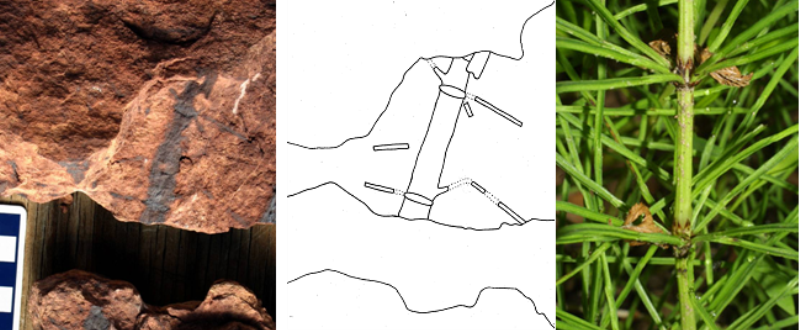 National Park Service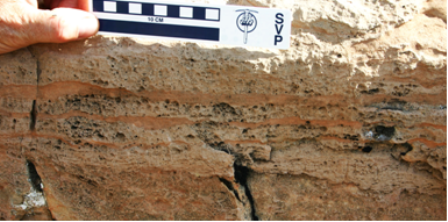 National Park Service
Other Plant-Like Life
Paleontologists have also found laminated (or layered) carbonates. These are formed when sediment sticks to a mat of cyanobacteria. (These tiny organisms are not plants, although they are sometimes inaccurately referred to as "blue-green algae.") Layers like these are described as stromatolitic, and they only form in standing water. In one place at least, then, there was actually water above the surface.