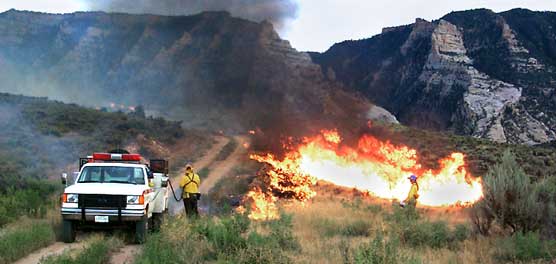 NPS Image
Many wildland areas found in National Park Service units such as Dinosaur are characterized as fire-adapted or fire-dependent and thus require periodic fire to maintain a healthy, resilient condition. However, in the absence of wildland fire, undesirable effects may occur.
Prior to the 1960s the National Park Service used full suppression to manage wildfire on their lands. This allowed for the accumulation of fuel loads, which increases the likelihood and severity of uncontrolled wildfire. Since then, the focus has shifted to one of mitigation and managing fire for multiple objectives by the fuels management program.
The NPS fuels management program objectives include maintaining natural processes and natural fire regimes, replicating the effects of natural fire, maintaining cultural resources, reducing hazardous fuels, managing non-native species, and preserving endangered species and habitat.
Vegetation types vary greatly at Dinosaur National Monument; from grasses and sagebrush to pinyon juniper, ponderosa pine, and cottonwood. These habitats are home to a variety of wildlife including some endangered species such as prarie dogs and perigrine falcons. The plants and animals react differently to fire and thus detailed burn plans are written for each prescribed burn to realize desired effects.