Mosquitoes and Your Safety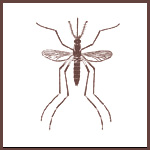 West Nile and Viral Encephalitis
West Nile virus is transmitted by the bite of an infected mosquito. Most infected people have either no symptoms or only mild ones, such as fever, headache, mild skin rash, or swollen lymph glands. A serious infection, though, could lead to viral encephalitis, a swelling of the brain, which can be fatal.
Prevention
Stay indoors at dawn, dusk, and in the early evening when mosquitoes are most active.
Use insect repellents with DEET, according to manufacturer's instructions.
Wear long sleeves and long pants when possible.


Did You Know?

... that Delaware Water Gap National Recreation Area includes lands which once belonged to 5 New Jersey boy scout camps. Private and religious camps also flourished along the riverbanks that are now part of the park at sites such as Turn Farm PA, Coppermine Inn NJ, and Coppermine Hiking Area NJ. More...