Mosquitoes and Your Safety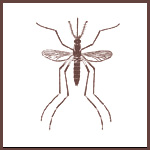 West Nile and Viral Encephalitis
West Nile virus is transmitted by the bite of an infected mosquito. Most infected people have either no symptoms or only mild ones, such as fever, headache, mild skin rash, or swollen lymph glands. A serious infection, though, could lead to viral encephalitis, a swelling of the brain, which can be fatal.
Prevention
Stay indoors at dawn, dusk, and in the early evening when mosquitoes are most active.
Use insect repellents with DEET, according to manufacturer's instructions.
Wear long sleeves and long pants when possible.


Did You Know?

... that shad have made a comeback in the Delaware River, due to pollution control. This member of the herring family lives its adult life in the ocean, but travels up rivers and streams to spawn. Each spring, anglers follow the "shad run" up the Delaware River to catch these hard-fighting fish. More...