Hornbecks Creek Trail Partial Closure

The trail is closed between the first and second waterfall; a portion of the trail has sloughed off, causing a hazardous condition. The first waterfall is accessible from the 209 trailhead and the second waterfall is accessible from Emory Road.
Dingmans Falls Area and Road Closed

Dingmans Falls Visitor Center, the boardwalk trail to the falls, and the access road are closed through while repairs to the road are made. We anticipate the area reopening in mid-November.
Mosquitoes and Your Safety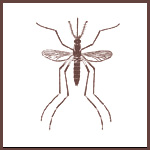 West Nile and Viral Encephalitis
West Nile virus is transmitted by the bite of an infected mosquito. Most infected people have either no symptoms or only mild ones, such as fever, headache, mild skin rash, or swollen lymph glands. A serious infection, though, could lead to viral encephalitis, a swelling of the brain, which can be fatal.
Prevention
Stay indoors at dawn, dusk, and in the early evening when mosquitoes are most active.
Use insect repellents with DEET, according to manufacturer's instructions.
Wear long sleeves and long pants when possible.


Did You Know?

... that a century before this recreation area was formed, the Delaware Water Gap was touted as a Wonder of the World, and drew vacationers via rail lines from Philadelphia and New York City. There were trails to stroll, verandas for viewing the gap, and a steamboat for moonlight cruises. More...