Hornbecks Creek Trail Partial Closure

The trail is closed between the first and second waterfall; a portion of the trail has sloughed off, causing a hazardous condition. The first waterfall is accessible from the 209 trailhead and the second waterfall is accessible from Emory Road.
River Road Closure

Starting on Monday, September 8, River Road will be closed from Park Headquarters to Smithfield Beach while contractors complete pavement repairs. Access to Smithfield Beach will still be possible. More »
Dingmans Falls Area and Road Closed

Dingmans Falls Visitor Center, the boardwalk trail to the falls, and the access road will be closed through September as repairs to the road are made. We anticipate the area reopening in October.
Drive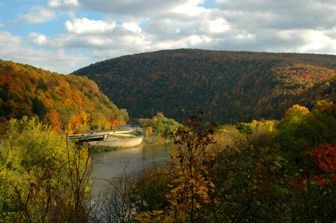 NPS Image
Much of the recreation area can be viewed and enjoyed from the comfort of your vehicle. The following tips and links will help you make the most of your drive, and help you enjoy a safe visit.
Always observe the speed limit, and watch out for local wildlife. Bears, deer, and other wildlife will often cross the road and can create hazards around blind turns.
There are three overlooks in Pennsylvania along Route 611 which offer views of the Delaware River and the Delaware Water Gap-but from ground level. For dramatic views of the river valley from above, you will need to leave the car behind and take a hike.
Directions to Point of Gap Overlook
Directions to Arrow Island Overlook
Directions to Resort Point Overlook
Buttermilk Falls, one of the tallest waterfalls in New Jersey, is accessible by motor vehicle. Dingmans Falls, while not necessarily drivable, is wheelchair and stroller accessible via a short boardwalk. Other falls can only be discovered on foot.
Directions to Buttermilk Falls
Directions to Dingmans Falls
Millbrook Village, Walpack Center, and Peters Valley are all charming points of interest for your scenic driving tour of the New Jersey side of the park.
Directions to Millbrook Village
Directions to Walpack Center
Directions to Peters Valley
It is possible to plan a driving circuit around the park, following the river up one side and down the other. However, seasonal and emergency road closures and road conditions may pose a challenge for motorcycles and some motor vehicles.
Did You Know?

... that Delaware Water Gap National Recreation Area includes lands which once belonged to 5 New Jersey boy scout camps. Private and religious camps also flourished along the riverbanks that are now part of the park at sites such as Turn Farm PA, Coppermine Inn NJ, and Coppermine Hiking Area NJ. More...