Hornbecks Creek Trail Partial Closure

The trail is closed between the first and second waterfall; a portion of the trail has sloughed off, causing a hazardous condition. The first waterfall is accessible from the 209 trailhead and the second waterfall is accessible from Emory Road.
River Road Closure

Starting on Monday, September 8, River Road will be closed from Park Headquarters to Smithfield Beach while contractors complete pavement repairs. Access to Smithfield Beach will still be possible. More »
Dingmans Falls Area and Road Closed

Dingmans Falls Visitor Center, the boardwalk trail to the falls, and the access road will be closed through September as repairs to the road are made. We anticipate the area reopening in October.
Drinking the Water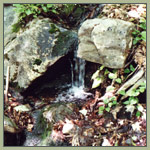 The water in this part of the Delaware is very clean, but that does not mean it is ready for humans to drink. Intestinal ailments, such as giardiasis can strike days or weeks after drinking "raw" water. Persons with immune deficiencies or taking immune-suppressant drugs are at even greater risk.
If a wild animal drinks from a water source, that does not mean that the water is safe for humans to drink.
Respect the park!
Respect those who follow you!
• To protect others, when backcountry camping, bury all fecal material, including pet waste, at last 8 inches in the ground, and 100 ft. from any water source.
• When camping at river campsites, if there are no latrines at the site, bury all fecal material, including pet waste, at last 8 inches in the ground, and 300 ft. from water.
Prevention
• On day hikes and short hikes, bring water from home.
• Always assume that surface water must be treated, even if wildlife are drinking it.
• All surface water should be boiled for three minutes, or otherwise treated before it is consumed. (See Fact Sheet below)
• If you become ill after drinking untreated water, let your doctor know.


Did You Know?

... that the reservoir of the proposed Tocks Island Dam would have inundated 30 miles of the Delaware River and 30,000 acres of its river valley (now part of Delaware Water Gap National Recreation Area.) The defeat of the dam was an early victory of the environmental movement in this country. More...