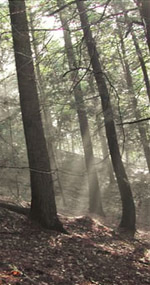 NPS Photo
The Foundation
The hemlock--the longest-lived tree of the Eastern United States--can live as long as 800 years. Though greatly reduced in numbers since pre-colonial times, in 1931 the hemlock was named the state tree of Pennsylvania.
The hemlock is the foundation species of a distinctive ecosystem that abounds in clear cold waters, acidic soils, and the darkest shade. The dense evergreen crowns of hemlocks shield the forest floor from sunlight year-round, resulting in bare slopes with scattered patches of shade-loving wildflowers and ferns. Each generation of new trees is limited to hemlocks and a few species of hardwoods that are very shade-tolerant.
However, hemlock ravines today are a forest in transition. Its momentum is ongoing; you can see the changes even as here today.
A Forest Entering Transition

Hemlocks moderate stream flow and temperatures. Water stays cool in summer and filled with oxygen - a key to the survival of native brook trout. Flows are more even and temperature less extreme.
Hemlocks attract wildlife that depend on mature evergreen forests and songbirds that nest high in the canopy. The Blackburnian warbler is often heard from the tops of the hemlocks, but seldom seen from the ravine floor.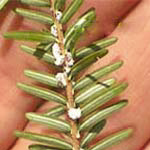 NPS Photo
Agents of Change

Human activity - logging, tanning, and clearing of fields - and environmetal factors have greatly reduced the hemlocks since colonial times. But the die-off of hemlocks since the 1990s is mainly due to a non-native insect, the
hemlock woolly adelgid
.
Management of infected hemlock stands is ongoing; limiting the spread of this insect and aiding affected trees. Still, we need to realize that this is a biological force which we cannot control.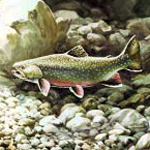 NPS Photo
A Cascade of Change

The premature death of hemlocks create large gaps in the canopy overhead. Sunlight pours in, the forest floor becomes warmer and drier, and the understory fills up with competing saplings, shrubs, and ferns. Beech, birch, red maple and striped maple transform the hemlock stand into a mixed hardwood forest. Birdsong subtly changes as the birds that nested in mature hemlocks are replaced by birds more at home in hardwood trees. Warmer stream water discourages native trout.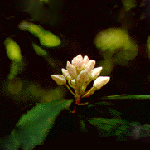 NPS Photo
Unique and Perishable

A hemlock ravine is unique - there is no ecological equivalent for it. Once the ravine changes to a mixed forest, it is unlikely to ever return to its "forest primeval" state.
Biological diversity
will have been lost.
Some things won't change, though. The waterfall will still plunge into the steep ravine. Rhododendron are hardy. They require moist soils but they are well-positioned here in the floodplain of Dingmans Creek to survive the transition of the forest around them. We expect to enjoy their showy summer blooms for years to come.