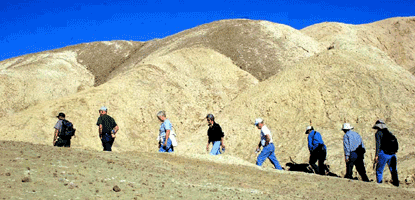 photo by bob greenburg
Scotty's Castle Tours
Guided living history House Tours of the beautiful castle interior are a must do for visitors. Underground Tours focus on the technology that Mr. Johnson used in building and living in his castle. Lower Vine Ranch Tours are at the cabin where Death Valley Scotty actually lived. Although the Lower Vine is usually closed to the public, this winter there will be Ranger-led tours on select dates.
Ranger Guided Programs
Park Rangers can introduce you to a new canyon, explore the night sky with you, guide you across the moonlit sand dunes, take you back in time or just answer your questions. A variety of Ranger-led programs are offered throughout the winter months (
November 13, 2014 –April 18, 2015
) that are designed to help you experience the park in a myriad different ways. For a complete list of programs and opportunities to visit with a ranger, refer to the weekly
Ranger Program Schedule
available at visitor centers,and posted throughout the park. Tours are free except for Scotty's Castle and Lower Vine tours. Some tours require advance registration. Programs may change for special events or cancelled due to inclement weather.
Moon & Star Programs
Twice a month something magical happens in Death Valley;a full moon and a new moon. During full moons rangers explore the sand dunes and/or Badwater by the wondrous light of the moon, view moonrises through binoculars and provide opportunities to learn more about this orb that impacts our lives in ways we never think about. During new moons, when the moon can't be seen and the sky marches out all its stars, rangers set up telescopes and help you explore the wonder of the dark night sky, a disappearing resource that also impacts our lives. Check ranger program schedules for full moon and telescope events and come experience the magic of Death Valley nights.
Paleontology Tours
View several million year old fossil mammal tracks. Although this fragile paleontological resource area is usually closed to the public, there will be three Ranger-led tours on selected dates.