Paleontology Tour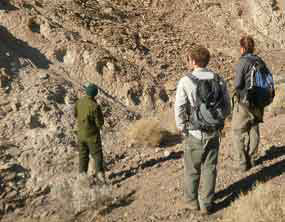 Millions of years ago, Death Valley's landscape and lifeforms appeared very different from the harsh desert of today.
On the Paleontology Tour, a park ranger will lead you into the wilderness through a dramatic canyon with high cliff walls opening into a multi-colored basin. There you will have a close up encounter with well-preserved fossilized tracks of bird, horse, camel, and mastodon-like creatures.
Although this fragile paleontological resource area is usually closed to the public, there will be three ranger-led tours on selected dates.
---
2012 - 2013 tours:
Saturday, November 24, 2012


(lottery sign-up on October 23, 24, & 25, 2012 from 8 am to 5 pm PST)


Saturday, February 9, 2013




(lottery sign-up on

January 8, 9, & 10, 2013 from 8 am to 5 pm PST)


Saturday, March 2, 2013


(lottery sign-up on January 29, 30, & 31, 2013 from 8 am to 5 pm PST)
---
To enter the lottery:
Open for three days only for each tour

Phone 760-786-3280 during business hours (8-5)

Leave a message clearly stating your name, the number of people in your party (limit of four including yourself) and your contact phone number.


Only those successful in the lottery will be notified by phone.



If you are selected, you will be asked for the names of all of your party members.
---
The hike is an all day, seven-mile round trip with a 1,500 foot elevation gain. Due to the rugged uneven nature of the terrain, this hike is considered moderately strenuous and not recommended for anyone with mobility or breathing difficulties. The hike is appropriate for older children, age 10 and up.
For tour and other Death Valley information call 760-786-3200.
Each hike is limited to 15 people.
There is no fee for these all-day, Ranger-guided hikes, but donations to support the program are welcomed and can be made through the Death Valley Natural History Association.