EXTREME SUMMER HEAT

Expect high temperatures of 100 to 120 degrees F on your summer visit to Death Valley. Heat related illness is a real possibility. Drink plenty of water and carry extra. Avoid activity in the heat. Travel prepared to survive. Watch for signs of trouble. More »
Zabriskie Point Rehab Project Delayed Until Further Notice

The popular vista site Zabriskie Point will be closed for major repairs over the 2014/2015 winter and spring seasons, but the exact date has not been determined. The site will remain open until further notice.
Furnace Creek Area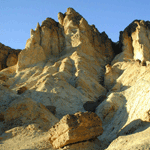 •
Golden Canyon:
Hikers entering the narrows of this canyon are greeted by golden badlands within. An interpretive pamphlet is available.
Hiking options
include either a two-mile round-trip in Golden Canyon, or a four mile loop that returns via Gower Gulch. Trailhead located on Badwater Road.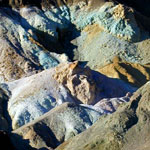 •
Artist's Drive:
Scenic loop drive through multi-hued volcanic and sedimentary hills. Artist's Palette is especially photogenic in late afternoon light. The 9-mile paved road is one-way and is only drivable with vehicles less than 25 feet in length. Drive starts from Badwater Road.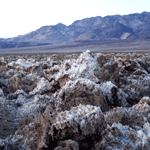 •
Devil's Golf Course:
Immense area of rock
salt
eroded by wind and rain into jagged spires. So incredibly serrated that "only the devil could play golf on such rough links." The unpaved road starts on Badwater Road and is often closed after rain.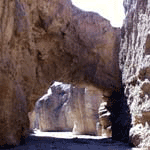 •
Natural Bridge:
Massive rock span across interesting desert canyon. From the trailhead, the natural bridge is a ½ mile walk. The spur road is gravel and often rough. Located off Badwater Road.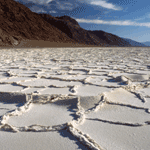 •
Badwater:
Lowest point
in North America at 282 feet below sea level, Badwater Basin is a surreal landscape of vast
salt flats
. A temporary lake may form here after heavy rainstorms. Do not walk on the salt flats in hot weather.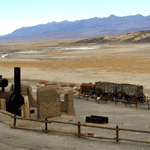 •
Harmony Borax Works:
Although this borax refinery operated only from 1883 to 1888, it is important as the birthplace of the famous
Twenty Mule Teams
. Adobe ruins and an original wagon hint at the industrial activity that once was. Interpretive signs along the short, paved trail tell the story. Located one mile north of Furnace Creek on Hwy 190 west.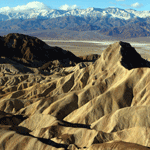 •
Zabriskie Point:
Surrounded by a maze of wildly eroded and vibrantly colored badlands, this spectacular view is one of the park's most famous. Zabriskie Point is a popular sunrise and sunset viewing location. The viewpoint is a short walk uphill from the parking area. Located east of Furnace Creek on Hwy 190.
Starting October 1, 2014 through March 31, 2015, all access to Zabriskie Point and surrounding area will be closed for major rehabilitation work to repair unstable support walls and improve conditions.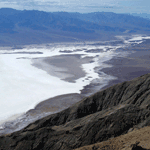 •
Dante's View:
The most breathtaking viewpoint in the park, this mountain-top overlook is more than 5000 feet above the inferno of Death Valley. The paved access road is open to all vehicles less than 25 feet in length and starts east of Furnace Creek on Hwy 190.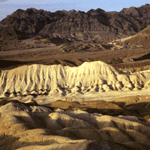 •
Twenty Mule Team Canyon:
Winding through otherworldly badlands, this 2.7 mile, one-way loop drive is unpaved, but accessable to all standard vehicles other than buses, RVs, and trailers. Located off Hwy 190, east of Furnace Creek.
Did You Know?

Death Valley is home to more than 1000 species of plants and more than 50 of those are endemics, found nowhere else in the world. More...