EXTREME SUMMER HEAT

Expect high temperatures of 100 to 120 degrees F on your summer visit to Death Valley. Heat related illness is a real possibility. Drink plenty of water and carry extra. Avoid activity in the heat. Travel prepared to survive. Watch for signs of trouble. More »
Zabriskie Point to close for repairs

Starting October 1, 2014 through March 31, 2015, all access to Zabriskie Point and surrounding area will be closed for major rehabilitation work to repair unstable support walls and improve conditions.
Park Newspaper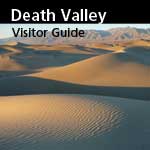 The Death Valley Visitor Guide (3.02 MB PDF file) is a comprehensive guide to visiting Death Valley National Park. From specific campground and lodging information to points of interest and scenic sites, take a look at the guide first.


Did You Know?

In 1917, Death Valley recorded 52 days with temperatures over 120 degrees and 43 consecutive days over 120 degrees Fahrenheit. The original long hot summer. More...