Scotty's Castle Road Construction

Expect 30 minute delays Monday-Saturday on Scotty's Castle Road and Mesquite Springs Campground Road. Caution advised due to unpaved surfaces and sections of one-lane road.
Scotty's Castle Road Closure

The road from Scotty's Castle east to the park boundary will be closed to all traffic from February 10 to April 10, 2014. The Castle can be accessed from the south via CA-190 and Scotty's Castle Road; expect 30 minute delays.
Park Newspaper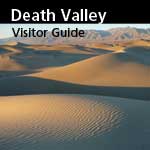 The Death Valley Visitor Guide (3.02 MB PDF file) is a comprehensive guide to visiting Death Valley National Park. From specific campground and lodging information to points of interest and scenic sites, take a look at the guide first.


Did You Know?

Rainfall in Death Valley averages less than 2 inches a year. There have been some years of no recorded rainfall at all! More...