Scotty's Castle Special Events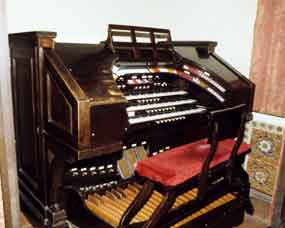 Scottys Castle Organ Concerts
The 2015 Organ Concerts will take place in June. For more information please visit the Death Valley Natural History Association's website: www.dvnha.org.
To be placed on the mailing & email list for future organ concerts, please call the Death Valley Natural History Association at 800-478-8564, ext. 10. For more information, please see the DVNHA website
The Welte-Mignon theater pipe organ features 1121 pipes, a grand piano, glockenspiel, xylophone, chimes, orchestra bells, sleigh bells, bird calls and a drum and cymbal assortment, and cost more than $50,000 to purchase, deliver and install in 1928. Pipe organs like the Welte-Mignon Pipe Organ in Scotty's Castle were used to accompany silent films. A short recording of music from the organ can be heard here.