Patches of ice and snow on the road

Some ice on the road
Things To Know Before You Come
JUNE VOLUNTARY CLIMBING CLOSURE
American Indians have regarded the Tower as a sacred site long before climbers found their way to the area. Recently, American Indian people have expressed concerns over recreational climbing at Devils Tower. Some perceive climbing on the Tower as a desecration to their sacred site. It appears to many American Indians that climbers and hikers do not respect their culture by the very act of climbing on or near the Tower.
A key element of the Climbing Management Plan is the June Voluntary Climbing Closure. The National Park Service has decided to advocate this closure in order to promote understanding and encourage respect for the culture of American Indian tribes who are closely affiliated with the Tower as a sacred site. June is a culturally significant time when many (not all) ceremonies traditionally occur. Although voluntary, this closure has been very successful - resulting in an 80% reduction in the number of climbers during June.
During June, the NPS asks climbers to voluntarily refrain from climbing on the Tower and hikers to voluntarily refrain from scrambling within the inside of the Tower Trail Loop. Please strongly consider the closure when planning a climbing trip to Devils Tower. Alternative climbing areas are located within 100 miles of Devils Tower National Monument. The Access Fund fully supports the voluntary closure and the Climbing Management Plan at Devils Tower.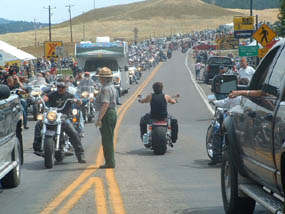 NPS Photo
Sturgis Motorcycle Rally
The Sturgis Motorcycle Rally takes place each August in Sturgis, South Dakota, about 80 miles from Devils Tower. Tens of thousands of motorcyclists come from all over. Many of them visit Devils Tower during the rally. The Wednesday of rally week is usually the busiest day at the park.
Some visitors like the rally, however others would rather avoid it. In order to help plan your visit, below are the dates for some upcoming rallies.
August 5-11, 2013


Did You Know?

When the proclamation establishing Devils Tower was published, the apostrophe was unintentionally dropped from "Devil's"—and this clerical error was never officially corrected.