Devils Postpile National Monument is located at 7,560 feet above sea level just west of the Sierra Nevada crest. As such, it experiences typical Sierran summer weather.

Afternoon thunderstorms are possible in July and August. Daytime temperatures can range from the mid-70s to to mid-80s (degrees fahrenheit). Evening temperatures can drop into the low 40s (and even the low 30s in the months of September and October).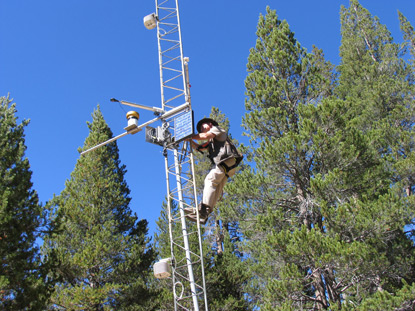 NPS Photo
SODA SPRINGS METEOROLOGICAL STATION

The meteorologic (met) station measures ambient air temperature, barometric pressure, relative humidity, surface radiation, wind speed, wind direction, and precipitation. In addition, it is equipped with snow pillows- instruments that can detect the amount of water content in the snow pack.

Data from the Soda Springs weather station is uploaded daily and can be viewed year-round in graph format by visiting Scripps' website. For more weather information, visit the California Department of Water Resources Website for Devils Postpile. This will lead you to daily readings from the monument's meteorological station.


Planning a hike?

Check the latest NOAA weather forcast for the Mammoth Lakes area.

Weather Station Data

Real time temperature, humidity, and rain and snow data. Read More