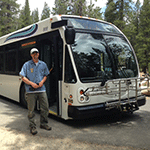 PUBLIC TRANSIT OPTIONS
There are many public transit options available to create seamless travel between Yosemite, Mammoth Lakes, the Inyo National Forest, and Devils Postpile.
To figure out all of your options, read the descriptions below. My plan is:
1. To drive to the Mammoth Mountain Adventure Center, park, and board the Reds Meadow/Devils Postpile Shuttle Bus to get to the monument (operates between mid-June and mid-September).
2. To use public transit to get from the Town Mammoth Lakes to the Lakes Basin, Mammoth Mountain Adventure Center or other locations in the Eastern Sierra.
3. I've hiked or want to hike from Devils Postpile to Yosemite. Now I need to get to or from Yosemite using a combination of Yosemite Area Regional Transportation and Eastern Sierra Transit.
4. I'm camping in the Reds Meadow Valley, or I've been through-hiking the John Muir or Pacific Crest Trails. I need to resupply or travel to Mammoth Lakes.
GO GREEN WITH PUBLIC TRANSIT
Devils Postpile has recently begun its official push to become a Climate Friendly Park. What does that mean? Devils Postpile is looking to reduce its over all greenhouse gas emissions significantly over the next five years through a variety of actions from carpooling and using public transit to replacing lighting systems and appliances to meet lower energy usage requirements.
But the monument can not do it alone. A large amount of the greenhouse gases produced at the park come from park employees and park visitors and we all have to do our part. The easiest place to start during your visit to Devils Postpile and the surrounding Mammoth Lakes area is to use public transit whenever possible.
In partnership with the Inyo National Forest and the Eastern Sierra Transit Authority, Devils Postpile encourages all of our visitors to take advantage of the extensive public transit available in the Eastern Sierra. This information is also very valuable for visitors planning through hikes on the John Muir and Pacific Crest trails or wishing to do other hikes that involve multiple trailheads.