Monument Open Until October 31, Visitor Services Limited this Fall

Devils Postpile and the Reds Meadow Valley will be open until October 31, weather permitting. Mandatory shuttle buses will stop running after Wednesday, September 3. Visitors may experience parking congestion on weekends, so plan accordingly. More »
37-Foot Vehicle Length Restriction on the Devils Postpile Access Road

Devils Postpile has a limit of 37 feet for vehicles on the monument road. This may change during weather events, construction activities, vehicle congestion, or for safety reasons. Call or email for more information. More »
Plan Your Visit
Please read important park alerts by clicking the red tab above before you come to the monument.
Devils Postpile National Monument is located in the heart of California's Sierra Nevada. As such, a wide variety of recreational activities is available in the region. Within the Monument's nearly 800 acres, visitors can explore the area's unique geology, take a day-hike along the John Muir or Pacific Crest trails, or simply enjoy a meal in our day-use area alongside the Middle Fork of the San Joaquin river. From camping, backpacking, and day hikes to fishing, photography, and horseback riding, there's something to do for everyone!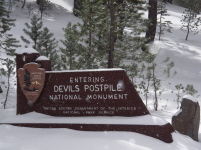 Cindi Scott
While planning your upcoming visit, it is important to remember that Devils Postpile National Monument is only open during the summer months.
Although opening dates can vary depending on snow conditions, the Monument usually opens in mid-June. By mid to late October, early winter storms in the High Sierra typically begin to bring snow to the area.
TRIP PLANNING LINKS
Operating Hours and Seasons
Transportation and Getting Around
Devils Postpile/Reds Meadow Shuttle Bus
Camping
Fees, Permits, and Passes
Pets in the Monument
Accessibility
Activities
Places to Go


Did You Know?

In the fall of 2005, a new meteorological (met) station was installed in Soda Springs Meadow at Devils Postpile. It joins a network of other weather stations throughout the Sierra Nevada that provide important data to climate research and the management of California's hyrdologic resources. More...