Traveling Green
Each year many visitors travel to Denali and other national parks. Any journey, or even staying at home, involves a "carbon footprint" or an impact on planet Earth by the production of greenhouse gases such as carbon dioxide. Here are some tips to reduce the carbon footprint of your travel to Denali--an effort to reduce impacts will help protect Denali and other wild places, and save you money.

Lucy Tyrrell

Planning your trip
• Plan to take public transportation where possible (the train brings you right into the park)
• If you are driving, get the best mileage with a well-tuned engine and properly inflated tires
• When selecting a tour, ask how the company minimizes environmental impacts
• Consider carrying travel information in a smart phone to avoid printing it
• Skip paper tickets and go electronic for airline or other travel
Leaving home for vacation
• Adjust the air conditioner, heat source, and hot water heater to minimize energy use
• Unplug appliances that draw energy even when turned off (which is all of them)
• Put your newspaper delivery on hold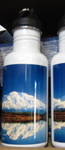 NPS Photo
During your visit to Denali
• In the park, enjoy some exploration (hiking and biking) to burn calories not fossil fuels
• Visit and learn about the new buildings that are certified as sustainably built: Eielson Visitor Center, Denali Visitor Center, and Murie Science and Learning Center
• Jump on the free shuttle buses (Savage River Shuttle to Mountain Vista and Savage River hiking areas, Riley Creek Shuttle around the park entrance area, and shuttle buses to the sled dog demonstrations)
• Enjoy a bus ride into the park (shuttle or tour options)--Is your bus one of the new hybrids?
• On all shuttle bus trips, pack a picnic without a lot of throw-away packaging
• Carry a reusable water bottle (you can purchase a "green" souvenir--refillable bottles with a Denali motif are sold at the Riley Creek Mercantile, Wilderness Access Center (WAC), and the Bookstore on the Visitor Center campus)
• Refill water bottles at the Murie Science and Learning Center, Wilderness Access Center, and both visitor centers
• Ask to use your own reusable coffee cup at the Morino Grill, WAC, and Riley Creek Mercantile
• Learn about the concessioner (ARAMARK-Doyon Joint Venture): it honors green initiatives such as the "Green Thread" program. Local foods and recyclables are used when possible at the in-Denali concessioner locations.
• At local hotels, reduce water use for laundering by opting not to change your sheets and towels every day
• As at home, when you leave your hotel room, turn off room air conditioner/heat, lights, and TV
• Place recyclables in appropriate bins (plastics, paper, aluminum, glass)
• Drop unwanted brochures or maps at visitor centers for reuse, and avoid getting multiple copies

Composite image made from web clip art

Calculating your carbon emissions
Here are two options for calculating your carbon emissions--at home or during your travels. Both offer suggestions for reducing your carbon footprint:
(1) Use the Do Your Part for Climate-Friendly Parks carbon footprint calculator to determine carbon emissions for home energy uses and transportation
(2) Use the Household Carbon Footprint Calculator developed by the Environmental Protection Agency (EPA) to determine overall household at-home emissions
Did You Know?

Cold temperatures limit trees from growing at high elevation in Denali. Warmer temperatures, however, have led to woody vegetation growing at ever-higher elevations. Treeline changes are a conspicuous sign of climate change.