Road Open To: Mile 3 (Park Headquarters)

The Park Road is currently open to Mile 3, Park Headquarters. Snow and ice beyond that point prevent vehicle travel, though pedestrian travel (skiing, mushing, etc) is permitted. More »
Walking the Denali Park Road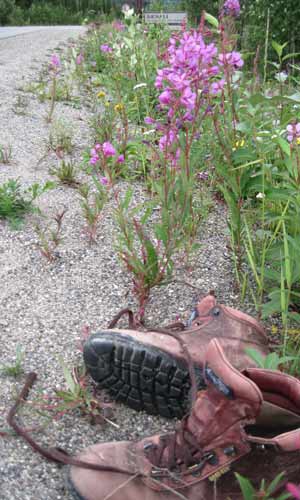 Lucy Tyrrell
Read Lucy Tyrrell's stories about section-hiking the Denali Park Road during summer 2012.
For the sixth consecutive year, Denali's Research Administrator, is walking the 92 miles of the park road--in sections or stages over the summer in her non-work time. Typically she boards a shuttle bus west, walks 7-12 miles, and catches a bus back to the park entrance. She doesn't walk the sections in a particular order, and walks sometimes east to west, and sometimes west to east.

Stories from 2012 (one story for each section of the road walk)
Stories from 2011

Do you want to walk the Denali Park Road too?
Walking the road is a great way to experience the park at your own pace if you are hesitant or don't have time to hike in Denali's trail-less wilderness.
Get off a shuttle bus and walk for some miles! Choose the section of road, and whether to walk west to east or east to west, with help from the road elevation profile. Ask a ranger or bus driver for suggestions. Know how to respect wildlife and stay safe. Bring water, snacks, warm clothes and rain gear, and a bus schedule.

Enjoy being on the one ribbon of road that winds through Denali's special wilderness.

Did You Know?

Natural sound is a matter of life and death to animals relying on complex communications. Intrusions of noise can adversely impact some wildlife, and some visitors' experiences. Denali soundscapes have been monitored since 2000, to help park managers understand Denali's natural sounds