Stories from Walking the Park Road 2012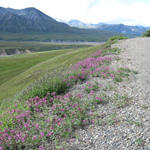 Lucy Tyrrell
Lucy Tyrrell's stories are arranged in chronological order. To find the most recent stories scroll down, or jump using the list of stories by date:
Transitions: Yes, Yet (June 1, 2012) Mile 15 - Mile 23
Alders, Bikers, and Construction (June 5, 2012) Mile 9 - Mile 3
No Notes (June 8, 2012) Mile 9 - Mile 15
Sixty-Two Caribou (June 10, 2012) Mile 63 - Mile 53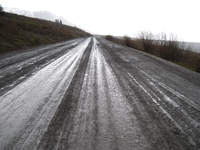 Lucy Tyrrell
Transitions: Yes, Yet
June 1, 2012 3:30-6:20 pm
Mile 15 to Mile 22.6 (East to West)
I scheduled my first walk on the park road for June 1, 2012. Yes, the calendar said June 1, yet, by many measures, I wondered, how could it possibly be June? The seasons and spring seemed to be tightly tethered to winter. The elevation of snow on Mt. Margaret extended surprisingly low. Balsam poplar branches held aloft buds with opening scales, but no leaves had ventured forth. Yes, the reddish shoots emerging on the road shoulder were fireweed, yet they were weeks away from blossoms. Yes, the willows were beginning to stir with summer greenness, yet the blush of green had only ventured partway up the grey slopes. Low-slung clouds bridged the distance between high-elevation snow and the green below. Snow patches persisted in the gullies, even if the promise of blue was stitched among the clouds. To my eyes-searching over the landscape for summer's approach, there was more winter white than hopeful green, more sullen brown than green.
I weaved back and forth from shoulder to road center, attempting to find the firmest footing on the slurry of road mud. A passing truck spattered me. The gauzy drizzle turned to rain, and I zipped up my light blue raincoat. Light illumined the curves of hills below the clouds. Strips of wetness on the road, where the light was reflected, lay like silver ribbons.
Two buses were stopped on the curve ahead, flashers blinking. Later, as one bus approached me, I hailed the driver to ask him why the buses stopped, hoping it was not due to a bear. The reply came, "Two moose on the hill." I plodded on. I saw the two brown forms stepping casually over the tundra. Later I saw a lump ahead of me on the road. Was it a grizzly? With a few more paces, it morphed into a piece of machinery-a grader-as I approached.
The white-crowned sparrow shared his song. Another bird warbled and I wondered if I could hope for a fox sparrow. But I had forgotten my binoculars and had to forego any close examination of feathers. Even without binoculars, a female Wilson's Warbler flashed yellow in the still-leafless roadside bushes. I admired a pair of clucking ptarmigan.
Yes, spring was emerging from the bonds of snow and ice, yet it was a slow release.
It felt liberating to be out on the park road witnessing some of these transitions that happen each year without fail. After I arrived at the Sanctuary River Bridge, I watched the swift waters flowing. But, there was no time to contemplate the passage of time and the passage of winter because a bus arrived. It had one empty seat, which I figured was meant for me.