Climbing Registration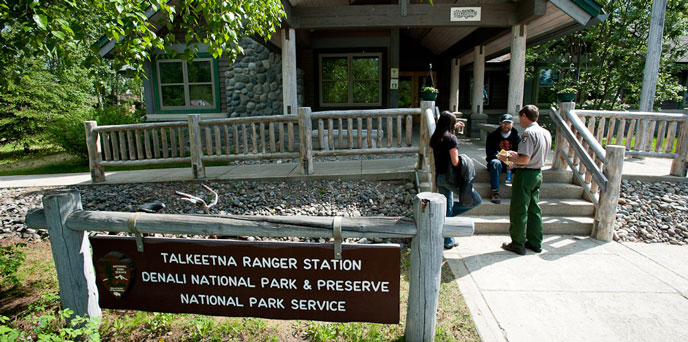 NPS Photo / Kent Miller
1. Mountaineers attempting a climb of Mt. McKinley or Mt. Foraker must register with the Talkeetna Ranger Station at least 60 days prior to their start date. Denali National Park and Preserve offers online climbing registration and payment for mountaineers paying with a credit card. For the easy electronic form and payment system, go to Pay.Gov's online climbing registration form. Once the form and payment are correctly submitted, registrants will immediately receive a receipt confirmation from Pay.Gov via email.
For groups who are unable to register online, the expedition leader can contact the Talkeetna Ranger Station to initiate manual registration.
Mountaineers that have climbed Mt. McKinley or Mt. Foraker since 1995 can request a "seven-day exception" to the 60-day pre-registration period and instead register only 7 days in advance of the climb. Individuals seeking registration under the "seven-day exception" must be on record at the Talkeetna Ranger Station as climbing in or after 1995. This rule is applied on an individual basis -- in order for the entire expedition to be eligible for the seven-day exception, all members must qualify.
ADDITIONAL REQUIREMENT FOR SOLOISTS: In addition to the online registration and payment, ALL soloists must complete a solo form (pdf) and submit it manually or as an email attachment. Soloists will not be considered registered until we also receive this completed solo form.

Registration requirements are strictly enforced. CLIMBERS ARE RESPONSIBLE FOR ENSURING THEIR FORM(S) HAVE BEEN RECEIVED IN TIME FOR THEIR DESIRED START DATE. The online Pay.Gov registration system is highly recommended as climbers receive an immediate confirmation of receipt. If submitting forms manually, a phone call or email to verify receipt is highly suggested!
2. The Mountaineering Special Use Fee of $350 U.S. currency will be charged IN FULL at the time of registration to each expedition member attempting Mt. McKinley or Mt. Foraker. A reduced fee of $250 will be charged for climbers aged 24 or younger as of the start date of the climb.
At the time an expedition checks in for their climb, the Denali National Park entrance fee of $10 per individual is due. Interagency passes are accepted in lieu of entrance fee payment (actual passes must be presented).
The preferred payment method is through our online registration system (link available the first week of October), which accepts credit card payment by Visa, MasterCard, American Express, Discover, and others. For mail-in registrations, we prefer credit card payments, although money orders and cashier's checks are also acceptable methods. Personal checks will not be accepted.
REFUND POLICY: If the climb is cancelled prior to January 15 of the year in which the climb is scheduled, all but $100 of the fee will be refunded. No refund will be made for cancellations after January 15.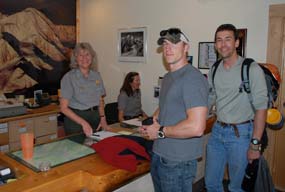 NPS Photo
3. All registered climbers are required to check in and out at the Talkeetna Ranger Station, including expeditions originating on the north side of the Alaska Range. Once officially registered, a team is required to make an appointment for the expedition orientation. Included in each team's emailed confirmation letter, expedition leaders are assigned a login ID and password for the appointment schedule at www.nps.timetrade.com. For those without internet access, team leaders can contact the Talkeetna Ranger Station to schedule an appointment. Appointments should be made as soon as practical, as times fill up fast. Orientations are available from 8:30 am to 4:00 pm, seven days a week. Expeditions should arrive 15 minutes prior to the scheduled time to present their photo identification and pay their park entrance fees.
4. Expeditions are permitted to add one new member to their expedition. This new member must pay the climbing special use fee and register at least 30 days prior to the start date of the expedition.
5. If you plan to use a guide service, make certain that the service is authorized by Denali National Park and Preserve. Illegal guiding is prohibited and your climb could be canceled at any time.
6. Climbers are required to read the National Park Service publication, Mountaineering - Denali National Park and Preserve, which covers search and rescue requirements, clean climbing requirements, high altitude medical problems, glacier hazards, and self-sufficiency. Climbers should have a solid understanding of the potentially serious medical problems and the extreme mental and physical stresses associated with high altitude mountaineering. While reading, climbers should take note of the 'registration code' highlighted in the booklet, as that code is necessary to complete online registration.
Did You Know?

Small amounts of airborne pollutants from around the world arrive in Denali every year. Remoteness alone cannot protect the park's clean air. As global human population grows, it is likely that increasing global emissions will affect Denali's air quality.