Long-time park employees Clare Curtis and Jane Bryant named this litter after three mining claims in the Kantishna area of the park. The Mining Claims Litter was born May 3, 2012. Our five-part video series, "The Puppy Paws," follows the development and growth of these pups at an early age. The video series explains the reason and logic behind yearly breedings in the kennels and looks at the important training and development dogs go through during their first four or five months of life.


Lucky (m)

Lucky is a very handsome black dog with blue eyes, but it might be his paws that really capture everyone's attention. His paws are HUGE and adorable, with black freckles all over his white socks. If his paws are a true indicator of his adult size Lucky is going to be a very big dog. At six months old he already weighed 69 pounds. Lucky loves chew toys and his kibble. When you put him in harness he is all business and just wants to pull with the big dogs.
Polly (f)

Polly is an old soul in a puppy's body. She was always outrunning her siblings on puppy walks. From the first time she had a harness on all she wanted to do was run and pull. She is incredibly focused and determined and tuned in to people. Our gut instinct says that Polly will grow up to be a very special lead dog, like her mom (Sultana) and her dad (Silver).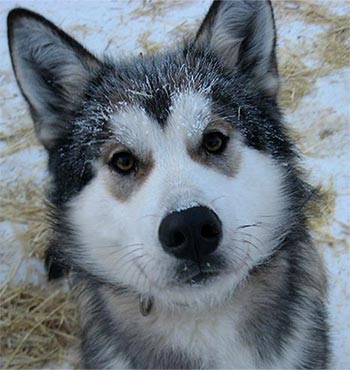 NPS Photo
Annie (f)

Annie was the last puppy born in her litter and the biggest puppy born in the kennels in at least the last 15 years! She is growing up to be a nice, big female. Annie loves to play with her siblings and all the other dogs in the yard. She is a social butterfly and loves to run around visiting everyone - dog and human. Annie wears a perpetual grin and makes everyone around her smile with her carefree sprit.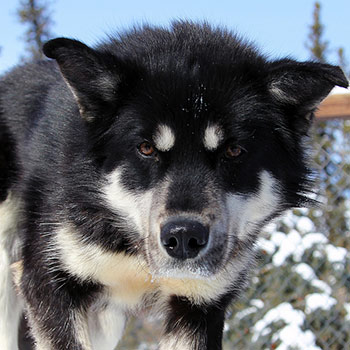 NPS Photo
Banjo (m)

Banjo, Salmon litter nephew and brother to Redtop, is adopted from Zak Richter out of his kennel in Bettles. He isn't our biggest male, but might compete for being the strongest. He is always ready to go and pulls so hard he has been known to break equipment. Around the Kennels, he is known as "The Hulk." He is easy to get excited and always ready to hit the trail. He looks nothing like his brother, Red Top, but their personalities and love of attention are the same.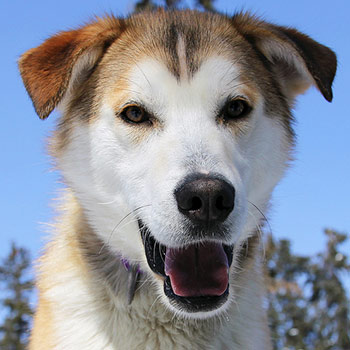 NPS Photo
Red Top (m)
Redtop, Salmon litter nephew and brother to Banjo, is adopted from Zak Richter out of his kennel in Bettles. He seems to have limitless energy and is a strong puller, but can be easily distracted. He is always happy, and spends his days bouncing around his yard at the Kennels and trying to get neighbor dogs to play with him. But after a long day breaking trail, he has an incredibly sweet disposition and just wants to snuggle with people.