Mountaineering Booklet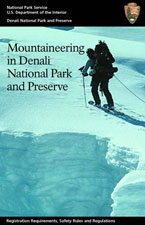 The booklet "Mountaineering in Denali National Park and Preserve" was written by park staff and medical advisors to help prepare climbers for the extreme mental and physical stresses associated with high altitude mountaineering. Topics covered in the booklet include:
Registration Requirements

General Information

Arctic High Altitude Mountaineering Medical Issues

Equipment and Supplies

Climbing Clean
The booklet contains critical planning information for your climb and is considered to be 'required reading' for all expedition members. However, be aware the booklet was last revised in 2005, and Denali National Park is currently working on developing updated materials. Therefore, for the most current fee information, please consult our Registration webpage. Climbers are also advised to read through Frequently Asked Questions About Mountaineering in Denali National Park.
Additionally, climbers should be advised of an IMPORTANT UPDATE to the booklet information regarding Radio Communications:
CITIZEN BAND (CB) RADIOS ARE NO LONGER USED. Alternatively, FRS/GMRS (Family Radio Service, General Mobile Radio Service) radios, in recent years, have become the standard on Denali and in other parts of the Alaska Range. FRS units come in a wide variety, and we suggest a model that is at least 3, but preferably 5 watts. These will be able to broadcast farther and typically have better reception than the cheaper, less powerful units. The Park Service and the Base Camp flight manager attempt to monitor channel 1, (Frequency 462.5625MHz), 24 hours a day. Weather forecasts are broadcast on this channel at 8:00 pm daily.
A registration code is required to be entered on your registration form and will not be accepted without it. The four digit code can be found by reading through the mountaineering booklet.
The brochure Trash and Waste Policies for Glacier Environments is also a helpful tool in planning an Alaska Range glacier expedition.