Natural Features & Ecosystems
Check out our countdown, from #10 to #1, of the top ten natural features of Denali National Park and Preserve. This subjective list is based on input from park researchers and managers.

Would these be the features that you would vote for? Which natural features are the reason(s) you would visit or have visited the park? Do some of these natural features tug at your heart-strings or send shivers up your spine from amazement and awe? Get in touch and let us know!

NPS Photo
#10 - Aurora in a Dark Night Sky
When the drape of night darkens the skies over Denali (from August through May), under the right conditions of solar flare activity, it is possible to see the aurora! Sometimes illumined in green, sometimes in red, the aurora can take the form of curtains, sheets, banners, bands, or ribbons--dancing and waving in the crisp, clear night sky.
Learn more about the aurora borealis
.
NPS photo
#9 - Foothills / The Alaska Range
A long strand of the 600-mile long Alaska Range lies within the park. High peaks provide a rock-and-ice scenic backdrop. Glaciers spill out of the mountains like ribbons of ice. The Denali fault, which runs in an arc through the Alaska Range, is the source of thousands of earthquakes that rumble through the park each year. The spine of the Alaska Range divides the park into areas "north of the Range" and "south of the Range," that are different in precipitation (moisture), temperature, glacier size, and vegetation. The range's foot hills add to the diversity of habitats for plants and animals.
Learn more about geology
in Denali.
Courtesy Photo/ Lucy Tyrrell
#8 - Wonder Lake
Wonder Lake is located an 85-mile bus ride away from the Park Entrance. A trip to Wonder Lake is rewarded, on sun-sparkling days, by the image of Denali (Mount McKinley) reflected in Wonder Lake, or in nearby Reflection Pond. Tent campers at Wonder Lake can be awestruck by clear-morning views of the mountain. In the right seasons, the area is renown for mosquito hordes and tasty blueberries. Ansel Adams captured his photo of Mount McKinley from a vantage point overlooking Wonder Lake.
NPS Photo
#7 - Landscapes
Denali's landscapes are big and wide, and sometimes full of silence. They are rich in pattern and process. Past glaciers plucked huge boulders from bedrock. Freezing and thawing soils create heaved spruce trees, and lobes of soil moving down slopes. Look and listen in winter landscapes for life in the frozen cold. Wildlife saunters, sings, spars, seduces, and survives in Denali's landscapes.
NPS photos
#6 - Fall Colors
Denali's autumn arrives early and doesn't stay long, but brings a spectacular palette of crimson and gold. Aspen, balsam poplar, and a variety of willows turn yellow. Bearberry, blueberry, dwarf birch, and shrub birch provide the brushstrokes of red and orange.
NPS photo / Tim Rains
#5 - Braided Rivers
Large rivers like the Teklanika, Toklat, East Fork, and McKinley run in multiple channels between gravel bars. The rivers shift channel location, water volume, and turbidity depending on the season, time of day, rainfall, and glacial melt. Looking across a braided river in summer, the gravel bars seem to take on a pink glow from the swaths of blooming dwarf fireweed..
NPS Photo
#4 - Dinosaur Dance Floors
Dozens of dinosaur fossil footprints are found in some strata of the Lower Cantwell Formation, such that geologists have affectionately referred to the slabs of rock as dinosaur dance floors. It would be hard to dance on them now, given that the rock layers have been heaved by ancient forces to the near-vertical. The dancing was done about 65 million years ago, to tunes played in the Late Cretaceous.
Learn more about fossils
.
NPS Photo/ Courtesy of Kent Miller
#3 - Glaciers
Denali has many glaciers. Some of the largest glaciers in Denali are the Kahiltna Glacier and the Ruth Glacier (basically flowing south from the Alaska Range), and the Muldrow Glacier (flowing north). Some glaciers are visible from the park road (e.g., Muldrow, Polychrome). The most dramatic views of glaciers are from the air. There are plenty of opportunities to match glaciology terms (crevasse, medial or terminal moraine, erratic, arete) with real landscape features! Mountain climbers start their ascent of Denali (Mount McKinley) from Basecamp on the Kahiltna Glacier. When conditions allow a glacier to slip along much faster than usual for a limited period of time, the glacier is said to be surging.
NPS Photo
#2 - "Big Five" Wildlife and More
What is truly remarkable as a natural feature of Denali is that it is easily possible to see grizzly, wolf, Dall's sheep, caribou, and moose all in one day. The prospects are also good for seeing lynx, hare, marmot, pika, golden eagle, raven, and tiny Wilson's warbler and white-crowned sparrow. These wildlife are all living their wild lives in the 6 million-acre place that was the first national park established to protect wildlife.
Learn more about wildlife
.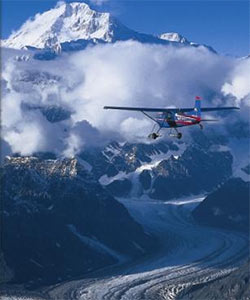 NPS Photo
#1 - Denali: North America's Highest Mountain
The most prominent feature of Denali National Park and Preserve is "the mountain" or Denali, an Athabaskan word meaning the "high one". Officially known as Mount McKinley, this "roof of North America" includes the South Peak, the official highest mountain in North America at 20,320 feet (6,166 meters), and, about two miles away, the North Peak at 19,470 feet (5,934 meters). Denali is a granite pluton massif (igneous rock that cooled slowly beneath the Earth's surface). Uplift from tectonic activity continues. Learn more about
mountain formation
and
mountaineering in Denali
.