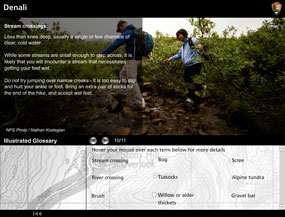 Discovery Hikes
(13 MB SWF download)

For more than a generation, since 1973, Denali has offered visitors an opportunity to spend a day hiking with a park ranger in wilderness backcountry areas where there are no roads or trails. Small group sizes of 11 people or fewer allow for meaningful interactions while minimizing impact on park resources.
This eGuide provides visitors with information about what to expect on a Discovery Hike, challenges and difficulty, how and where to sign up, what to wear, items and gear to bring, as well as a glossary of important terms.