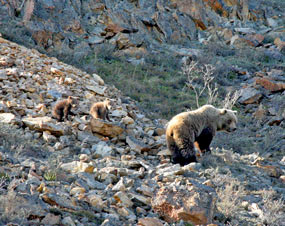 Photo courtesy of Jerri Roberts
"I'm thrilled to have photos included in the visitor gallery - the Polychrome Overlook area was one of my favorite sites in the park - the vibrancy and variety of colors there was staggeringly beautiful. I am also a birder so I was very excited to be able to see and capture the ptarmigan. There was actually a pair of them out towards Kantishna, and they cooperated very nicely by posing for me! I feel even more connected to Denali now by having my photos posted. Thank you so much!"

- Shirley Sword, 2014 park visitor

When visiting a wilderness park like Denali, the Leave No Trace ethic, "Take only pictures, leave only footprints" holds particularly true; and many visitors, after leaving here with memories and pictures, are eager to share them with us and the world.
We welcome your submissions - please feel free to send us copies of your favorite photograph or drawing that you made of the park. Some images may wind up in an online photo gallery; others may find a place in park brochures, bulletin boards or other publications.
Before sharing images with us, please carefully read the submission guidelines. For example, note that we will not reuse images containing watermarks or otherwise advertising a commercial enterprise. Also, because so many visitors are keen to share their experiences, we are not able to ear-mark images for specific or one-off uses; an image donated to us enters the public domain, and may be used free of charge by anyone who comes across the image.