Park Guides and Publications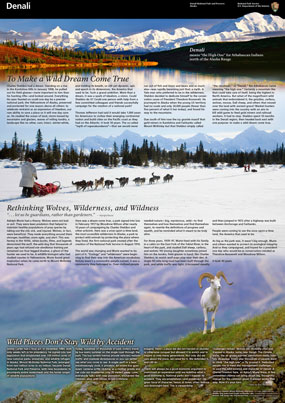 Park Map Brochure

The 2013 reprint of Denali's official park map and brochure features text written by Kim Heacox and a lead landscape photo by QT Luong.
Park Newspaper - Latest Editions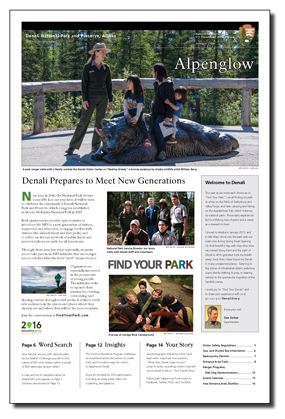 The Alpenglow, Summer 2015 is a 16-page tabloid newspaper chock full of content to inform and inspire your visitor experience in Denali. (PDF 25MB).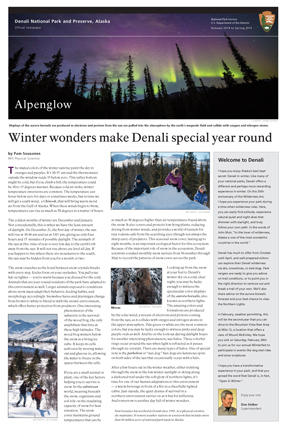 The
Alpenglow, Winter 2015
offers you comprehensive information and advice about visiting the park during the season that dominates life in Denali year round. (PDF, four pages, 7.2 MB)
Winter Visits
Download a free site bulletin that outlines important Snowmobile Regulations and safety information for park and preserve areas that surround the boundaries of the former Mount McKinley National Park. A map that lists eight GPS boundary coordinates and five GPS reference points will help snowmobile operators steer clear of designated wilderness areas.

Snowmobile Regulations
(8 MB PDF)
Additional Brochures and Resources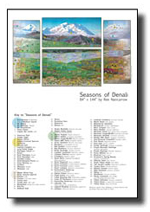 In 2008, fabric artist Ree Nancarrow created "Seasons of Denali," a remarkable panoramic quilt depicting the landscape surrounding the new Eielson Visitor Center, 66 miles from the park entrance. This key carefully identifies all of the plants, flowers, birds and animal species she included in the piece.

Seasons of Denali - Guide to Ree Nancarrow's Quilt
(915 KB PDF)