The Denali Wolf Viewing Project
Denali is recognized as one of the best places in the world for people to see wolves in the wild. Each year, tens of thousands of visitors see wolves along the Denali Park Road. More than anywhere else in Alaska, wolves in the eastern part of Denali provide significant benefits to tourism.
Harvest of wolves, particularly breeding animals, has the potential to decrease wolf numbers, influence social structure and reproduction, alter wolf behavior, and decrease opportunities for wolf viewing. Thus, even if harvest occurring outside of the park has little effect on larger-scale wolf population dynamics, it may still have significant effects on visitor experiences.
From 2000 until 2010, the State of Alaska prohibited wolf hunting and trapping in two areas bordering the park, the Stampede and Nenana Canyon Closed Areas, in order to protect two of the park's three most-commonly viewed wolf packs. At the spring 2010 meeting of the Alaska Board of Game, the National Park Service (NPS) submitted a proposal to extend the eastern boundary of the Stampede Closed Area. Instead, the Board of Game decided to eliminate both closed areas and allow hunting and trapping wolves in all areas bordering the park.
In 2010, Denali National Park and the University of Alaska Fairbanks, with the cooperation of the Alaska Department of Fish and Game, began a study of wolf movements, wolf survival, and wolf viewing opportunities along the Denali Park Road. This study is investigating a variety of factors that might influence sightings of wolves on the park road including;
Wolf abundance

Harvest of wolves outside of park boundaries

Den location

Pack size and composition (adults, pups, etc.)

Individual behavior

Pack social structure

Pack proximity to the road
We expect this on-going study to inform the NPS on how wolf management practices outside Denali's boundaries impact wolf populations and the likelihood of seeing wolves within the park.
Latest Update
(April 2015)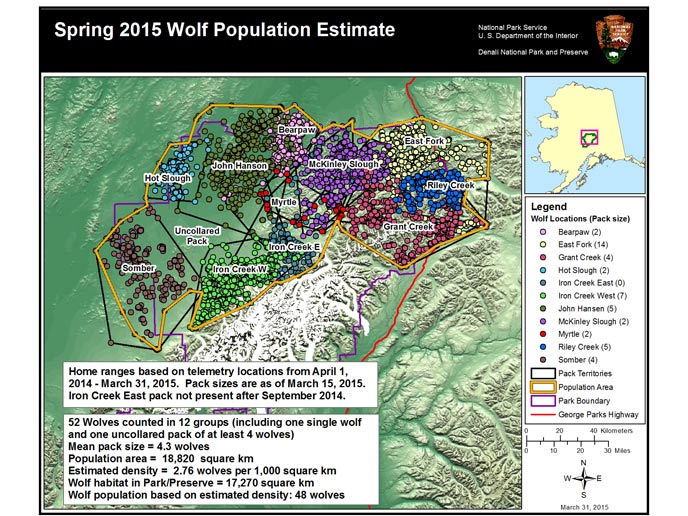 NPS Image
Wolf Sighting Index (2015)
The wolf sighting index is a measure of how often observers on westbound trips to Eielson Visitor Center saw a wolf in a given year. To maintain consistency across years, we limited this index to consider only trips by experienced observers (park employees and buses with data-logging computers). Although we believe that changes in this index are a good indicator of how overall chances of seeing a wolf might change over time, these rates should not be interpreted as a direct estimate of a visitor's chances of seeing a wolf in any given year.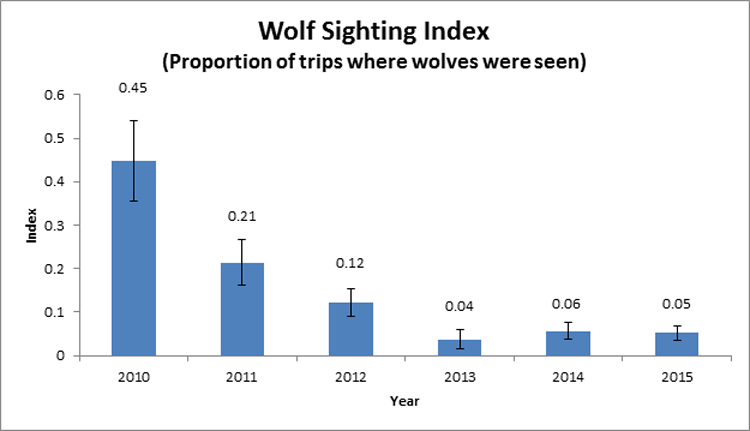 Because the study is not yet complete, we are unable to present any conclusions regarding specific relationships between the declining sighting rate and wolf harvest or any other mechanism. The data presented here are preliminary. Final analysis and peer review are expected to be completed during 2014. Check this site again to obtain future updates and the final report. Direct additional questions to
Bridget Borg
or
Steve Arthur
.
Watch a series of still images from a camera trap placed near a wolf den in Denali, summer 2011. (Open captioned).

Duration:

2 minutes, 45 seconds