Trumpeter Swan (Cygnus buccinator)
Named for their resonate brassy call, trumpeter swans are a common sight across Denali's skies during the spring and fall and can be found throughout Denali's wetlands in the summer. Those that return annually to breed in Alaska number over 17,500 and belong to the Pacific Coast population. The Pacific Coast population makes up about 75% of the world's total number of trumpeter swans.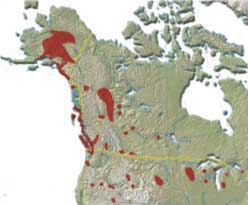 Driven to near extinction by humans in the 19th century, focused conservation measures have helped North American trumpeter swans wage a comeback. Removed from the Federal Endangered Species list in 1968, current surveys estimate the worldwide population at 24,000.
Breeding habitat includes freshwater marshes, ponds, lakes, and slow-flowing rivers. The rich wetlands of the northwestern and southwestern portions of Denali support large numbers of breeding, brood-raising, and pre-migratory staging swans. In August 2000, U.S. Fish and Wildlife biologists counted over 1,000 trumpeter swans in Denali during the statewide trumpeter swan survey.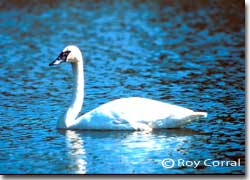 Adult trumpeter swans are white with black legs, feet, and bills. The head and neck are often stained a dull tan or rusty color. This discoloration results from swans foraging below the surface of the water and along the bottoms of ponds, lakes, and streams. Juvenile swans are gray. Adult plumage usually replaces the gray feathers of adolescence by 1 to 1.5 years of age.
Trumpeter swans are the largest swan in the world. They measure nearly 5 feet in length (1.5 meters) and have a wingspan of almost 7 feet (2 meters). Males average about 28 pounds and females average about 22 pounds (10 kilograms).
Flying in a "v" formation, flocks of trumpeter swans begin leaving their wintering areas in mid- to late February. Using passes to navigate through mountain ranges and moving north with the spring thaw, trumpeter swans gather on lakes in central British Columbia and southern Yukon on their way north. One of the most important staging areas is Marsh Lake near Whitehorse where thousands of trumpeter swans gather each April. Trumpeter swans arrive on their Alaskan breeding grounds throughout late April and early May.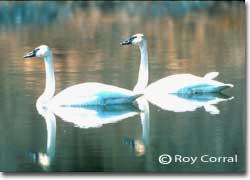 Breeding pairs probably mate for life and usually return to the same nesting territories each season. Characteristics common to nesting areas include an ample food supply, room to takeoff, shallow clean water, and isolation from human activities. If these conditions are met, breeding pairs usually begin nest building by late April.
There is increasing interest to develop visitor facilities and new access points in the southern portions of Denali. Because trumpeter swans are highly sensitive to disturbance, park managers must protect swans and their habitat in this area. Working cooperatively with US Fish and Wildlife Service researchers, we are conducting surveys to locate nesting and pre-migratory staging swans and describe their habitats in the southern portion of Denali. Using this data, park managers and others will be able to place new visitor facilities and access routes away important swan habitat.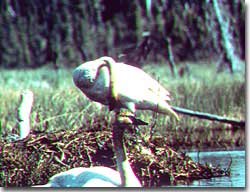 Swans build their nests on old beaver houses and dams, and on emergent vegetation, either floating or anchored to the bottom of the water body. Many nests are built offshore and are usually surrounded by a 20 to 30 foot (6 to 9 meter) moat.
Pairs often begin to build or repair their nest even before a site is completely free of ice. Nests take about two weeks to build, are typically 3 to 11.5 feet (1 to 3.5 meter) in diameter, and are composed primarily of aquatic grasses and down feathers.
Swans lay clutches of 4 to 6 eggs, often before the completion of the nest. The female spends an average of 35 days incubating the eggs while the male stays nearby to defend the nest against intruders and predators.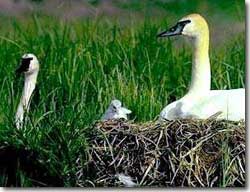 Incubation is primarily the responsibility of the female, although the male occasionally incubates as well.
Hatching usually occurs from mid-June to early July. Cygnets, or nestling swans, are typically light gray with pinkish-gray legs, feet, and bills.
Cygnets can swim within 24 hours of hatching and can dive under the surface of the water to escape danger. Adult swans will intermittently brood their young during poor weather and cold evenings during the first several weeks after hatching. Adults will also protect the cygnets from predators.
Newly hatched cygnets feed mainly on aquatic insects and crustaceans. Their diet changes at about 5 weeks of age to include more vegetation. By the age of 2 to 3 months, the cygnet's diet is similar to the adult's diet. The leaves, stems, tubers, and roots of aquatic plants are important foods for trumpeter swans.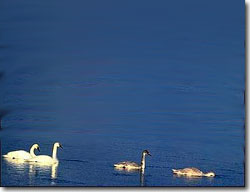 Trumpeter swans use their strong webbed feet to dig into pond or lake bottoms for roots, shoots, and tubers, and then plunge their heads and necks underwater to eat what they've dug up. In deeper water, they tip up completely to snap off the leaves and stems of plants growing underwater. Cygnets often forage on invertebrates and pieces of aquatic vegetation stirred up by their foraging parents.
The cygnets grow quickly from approximately 10.5 ounces (300 grams) at hatching to approximately 15.5 pounds (7 kilograms) at fledging. By 8 to 10 weeks of age, young trumpeters have reached half their adult size and are fully feathered. In Alaska, the average age at first flight is 14 to 17 weeks. Juveniles retain their gray plumage until their second winter.
The nesting season for trumpeter swans, from nest building to initiation of autumn migration, is one of the longest for birds in North America. The timing of the breeding season is tuned to take advantage of rich food supplies. Late spring thaws and early autumn freeze-ups can negatively impact swan productivity. In years when the breeding season is shortened due to weather, many young swans may not leave their breeding grounds and may die. Those that survive will often remain with their parents until the following spring.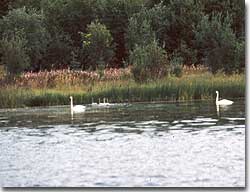 Female swans typically stay in ancestral ranges throughout their lifetime while males generally disperse to other areas.
Swans may find their mates before the age of 2 years, but breeding does not usually begin until the age of 4 to 7 years.
Fall migration begins in October. Swans without young are the first to leave on migration and family groups soon follow.
Flocks move southward in synchrony with the availability of open water. As lakes, marshes, and waterways begin to freeze, swans move ever southward towards wintering grounds spread across southeastern Alaska, southwestern Canada, and western Washington.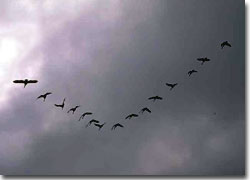 Clocked at ground speeds from 25 to 60 miles per hour (40 to 96 kilometers per hour), flocks follow migratory paths similar to those taken in the spring.
Large flocks of trumpeter swans are seen in Denali's skies from late September through mid-October. Large pre- migratory staging groups often contain 60 to 70 swans. Tundra swans (Cygnus columbianus) are seen in Denali during migration, but they do not breed in Denali.
Most trumpeter swans from interior Alaska spend the winter in tidal estuaries spread between southeastern Alaska and the Columbia River in Washington. When the weather is mild and wet, they are widely dispersed, feeding in freshwater and estuarine wetlands and flooded farm fields along the coast. When the weather turns colder and the freshwater areas freeze, the swans congregate on the estuaries, which do not freeze because of the combined influence of tides and salt water. A large portion (nearly 40% in 1995) of the Pacific Coast trumpeter swan population winters along south coastal British Columbia and particularly on eastern Vancouver Island.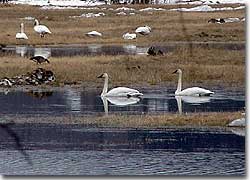 In addition to wild foods, the winter diets of many trumpeter swans include crop foods such as potatoes, carrots, and wheat. Following this readily available food source, trumpeter swans have moved into agricultural areas on eastern Vancouver Island, the lower Fraser River delta in British Columbia and the Skagit River valley in Washington.
Trumpeter swan pairs remain together year-round, but during the non-breeding months they are very social and often congregate with large numbers of other swans. Aggressive and defensive behaviors exhibited during the breeding season are largely absent throughout the rest of the year. The two dominant activities of trumpeter swans during the winter are feeding and resting.
Trumpeter swans are known to live over 24 years in the wild and up to 32.5 years in captivity.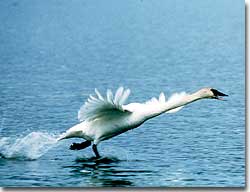 Trumpeter swans are at risk of predation throughout their lives. Ravens, great horned owls, mink, and river otters prey upon eggs and cygnets. Young and adults alike are preyed upon by the golden eagle, red fox, coyote, wolf, black and brown bears. All swans are vulnerable to predation, especially during feather molts when they may be flightless for up to 30 days.
Other causes of death include exposure (especially for cygnets), starvation, lead and other poisonings, birth deformities, and collisions with power lines and automobiles.
The future of trumpeter swans is promising yet tenuous. While populations appear to be slowly on the rise, many dangers still exist and the National Audubon Society lists trumpeter swans as a conservation priority on their nationwide WatchList.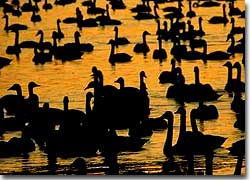 The most serious threats to trumpeter swans include habitat loss resulting from expanding human populations, increases in human disturbance, and lead poisoning. Habitat loss is especially prevalent on the winter ranges.
Lead poisoning occurs across the year-round range of swans. Swans ingest spent lead pellets and fishing sinkers as they forage. Nontoxic shot has been required for all waterfowl hunting in the United States since 1991 and in Canada since 1999, but lead shot is still used for upland bird hunting (pheasant, quail, doves, etc.) in both countries. Studies in tundra wetlands in Alaska suggest that spent lead shot settles very slowly, if at all, into sediments and remains available to feeding waterfowl for many years.
Fortunately, Alaska contains productive wetlands that support large breeding populations of trumpeter swans. It is clear that these wetlands must be preserved and protected for generations of trumpeter swans to come.