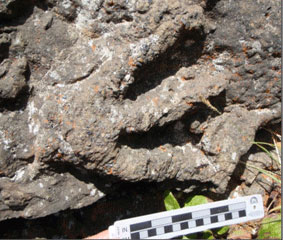 NPS Photo
Hadrosaurs were large, duck-billed dinosaurs that usually walked on two feet. Their wide, flattened mouths and hundreds of small back teeth made them excellent herbivores (plant-eaters), and they occasionally used all four feet when grazing for food. Hadrosaurs could be as long as a school bus and weigh as much as two cars! Their footprints are broad and have three toes, but the toes are shorter and wider than theropod toes.
Ceratopsians were plant-eating dinosaurs with beaks that usually walked on all four feet and may have traveled in herds, like elephants. Most ceratopsians had horns on their skulls, like triceratrops. They ranged in size from 3 to 30 feet and weighed anywhere from 50 pounds to over 10,000 pounds! The back feet of ceratopsians create footprints with five toes.
Pterosaurs were flying reptiles that could also walk on the ground. They ate small animals, insects, fish, and other sea creatures. On land, pterosaurs used both their front and back "feet," called the manus (front) and pes (rear). Pterosaurs ranged in size from just a few inches up to 40 feet, the largest flying animal ever known! Pterosaur footprints have been found in Denali but are rare.