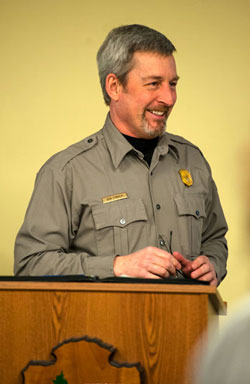 NPS Photo / Jay Elhard
Welcome to Denali
We are glad you are here to help us celebrate the 50th anniversary of the Wilderness Act of 1964. It is an important part of the reason this great park looks and runs the way it does today.
During your visit, I want to challenge and encourage each of you to find and spend at least five minutes in wilderness. Try to define for yourself what it means, and what the experience feels like for you. It is my hope that you will decide that five minutes is not nearly enough.
As homework goes, this should not be especially hard to accomplish in Denali. More than 95 percent of all the park and preserve areas are managed either as designated or eligible wilderness lands. That is just about everything we have except for the entrance area and a skinny ribbon running the length of the Park Road corridor. Step off a shuttle bus, walk about 15 or 20 paces in any direction, and you will probably be standing in the thick of it. If you are not sure, ask your bus driver, or a park ranger on my staff. Wilderness is usually a big part of why they choose to live and work here.
Managing public lands to conserve wilderness character asks more of us as stewards, and visitors. The most persuasive argument I know for whether it is worth is to get people into a space where wilderness can speak for itself.
A number of evening speakers will talk about wilderness at events scheduled throughout the summer. Check listings on our online events calendar.
Enjoy your visit.

Don Striker
Superintendent