Writers Anthology
Since 2009, the Denali Artist-in-Residence Program has included writers and poets. Below, you can find links to work inspired by their time in Denali.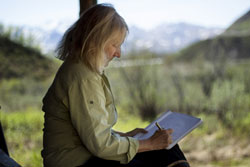 NPS Photo / Charlotte Bodak
2013 Writer-in-Residence
Kathleen Dean Moore
Read a copy of Moore's donated writing, "The Art of Watching," a collection of five short essays
(10 pages, PDF 106kb)

Listen to Kathleen read her works: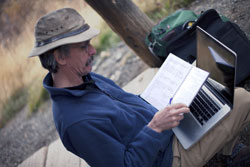 NPS Photo / Jake Frank
2012 Writers-in-Residence
Kim Heacox
Read a copy of Heacox's donated essay, "
A Letter to Ade Murie
"
(two pages, PDF 56kb)
Marybeth Holleman
Read a copy of Holleman's donated writings, "
The Questions We Ask: A Teraptych
"
(seven pages, PDF 94kb)
Linda Schandelmeier
Read a collection of seven poems by Schandelmeier, "
Denali Poems
"
(eight pages, PDF, 77kb)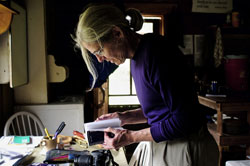 NPS Photo / Sean Proctor
2011 Writer-in-Residence
Carolyn Kremers
Read a collection of essays by Kremers, "
The Day I Hiked Up Stony Dome
"
(14 pages, PDF 192kb)
2010 Writer-in-Residence
Nancy Lord
Have your pick of three individual pieces donated by Lord --

Wolf
(nine pages, PDF 650 kb)