Artist-in-Residence Program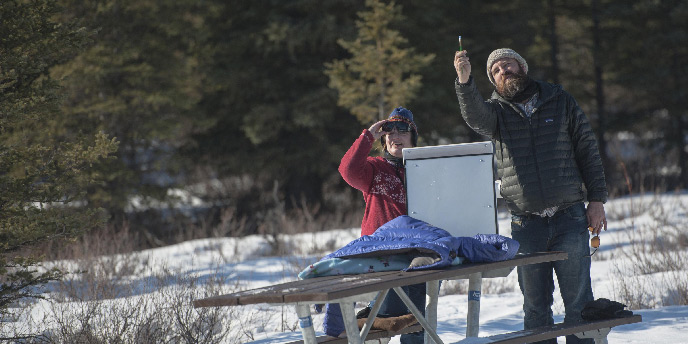 NPS Photo / Jay Elhard
Since 2001, a total of 60 accomplished
artists, writers, and composers
have participated in the Artist-in-Residence program. Following a 10-day residency, each volunteers to lead a public outreach activity with visitors and to donate one piece of art to the program collection. For a two-year trial period beginning in 2016, the program will explore a preference for digital and performance-based donations rather than physical pieces for the program collection. Artists are challenged to create pieces for visitors that offer a fresh and innovative perspective of the park drawn from their own experience.
In recent years, the program has demonstrated a renewed commitment to providing expanded opportunities for artists, and for fostering greater interaction between artists and the visiting public. A new winter residency program was created, along with a new series of afternoon outreach activities throughout the summer in public areas outside the Denali Visitor Center. A first fine arts photographer was selected to participate as a visual artist in 2015. With the welcome addition of several new
gallery spaces
, more pieces in the program collection enjoy a larger life in the public eye.
With its current open call May 1 to Sept 30, 2015, the program will invite a new category of applications for an annual residency in music composition. The first selected composer will visit the park in 2016, and a composition that he or she donates is expected to be performed at the Denali Music Festival in 2017, as the park is celebrating the 100th anniversary of its founding as Mount McKinley National Park in 1917.
Watch two student documentary video interviews with Deborah Bouchette (Running time 03:39)
and Trine Bumiller (Running time 01:48), both artists-in-residence during summer 2012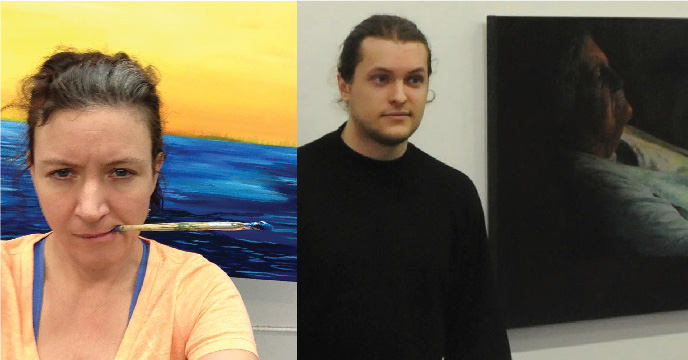 Program Recognizes Talents of Young Alaska Artists
The Artist-in-Residence program in 2015 awarded scholarships to two talented Alaska artists to participate in a three-day landscape painting field course in the park hosted by Alaska Geographic. The instructor is David Mollett, an accomplished painter and a 2003 AiR-program alumnus.
Tammy Holland, a BFA student at the University of Alaska, Fairbanks, was born in Fairbanks and grew up alternating between Fairbanks and fish camp on the Yukon River near Rampart City. Her family led a subsistence lifestyle hunting, fishing, and gathering in the summers while creating a legacy of breeding, training, and professionally competing in both sprint and distance dog mushing in winters. Her art is a reflection of that childhood, celebrating nature and strong matriarchal bonds through a bold color pallet and perspectives,and bright happy imagery.
Christopher Judd, a BFA student at the University of Alaska, Anchorage, was born and raised in Chugiak. Alongside his studies at UAA he spends his summers attending the Art Students League of New York to focus on drawing and painting from life. His studies kindled a passion for life drawing and portraiture that his work centers around. He recently completed his BFA Thesis show focusing on a series of portraits he did of his grandmother. He hopes to attend the New York Academy of Art in the near future for graduate school.