Since 2002, the Artist-in-Residence program at Denali has hosted more than 45 artists and writers, and two invited composers. Plans are in place to begin inviting applications in music composition in 2015 for residencies beginning in 2016. Other disciplines, including dance, drama, and new media, may be considered in subsequent years.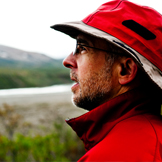 NPS Photo
Composer Stephen Lias

In 2011 Stephen Lias spent a week at the East Fork Cabin immersing himself in the wilderness leading to the creation of the original composition "Denali." For several years, Lias has focused on composing pieces for national parks, in anticipation of the 2016 Centennial of the National Park Service. He has written pieces for Mount Rainier, Rocky Mountain, Sequoia, Kings Canyon, and Big Bend. In 2012 Stephen Lias visited other national parks in Alaska as an Artist-in-Residence, including Glacier Bay, Wrangell-St. Elias, and Gates of the Artic.

When writing a musical work based on a national park, I always try to immerse myself in the experiences that the park has to offer and create musical ideas organically from the emotions, activities, and surprises that inevitably come from being in the wild. Denali provided the ideal location in which to pursue this approach. During my residency, I was able to spend time in the amazing mountains, glaciers, rivers, forests, and tundra, and to witness the wildlife and weather that make this such a forbidding environment.
When I sat down to begin composing, it was quite easy to break the experience into different topics such as "flying over snow-capped peaks", "predators", or "iconic vistas". These (among other topics) became the sections of the piece and create (I hope) the impression that the listener is moving through, and interacting with, the varied world of Denali. - Stephen Lias 2011
Watch "Denali" by Stephen Lias