Distance Learning
Denali: The High One (Geology of the Mountain)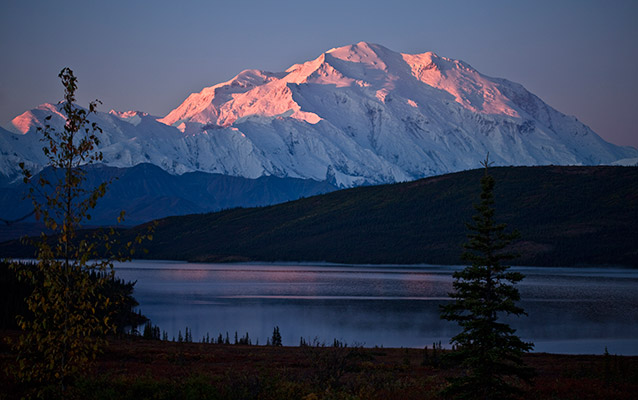 NPS Photo / Jacob W. Frank
Denali National Park and Preserve hosts the tallest mountain in North America. It can be hard to get here, but you can bring Denali into your classroom instead!
The education staff at Denali can visit your classroom for free via the internet. Using Zoom or Skype videoconferencing connection, Denali becomes just a click away. Once connected, our staff will spend an hour teaching your class about Denali's amazing natural resources using interactive lessons and activities.
Program length
:
Pre-conference activity takes about 1 hour, Zoom/Skype conference runs ~ 60 minutes.
Program resources:


Other resources:

Many of our other videos are worth sharing with your classroom. Check out our panoramic images to get a taste of what being in the park is like.



How to Participate
How to register:

Registration opens October 1st.
Spaces are limited and registration is handled on a first-come, first-served basis.
Register by downloading this form
, filling it out, and emailing it to us using the address on the form (preferable) or sending it via fax or mail.
Our free, interactive presentations are available annually from early November through mid-March (with breaks around some major holidays). 
Note: Please be aware that Alaska is in the Alaska Time Zone and follows daylight savings time changes. Programs cannot start any earlier than 9 a.m. in the Alaska Time Zone, which means programs for schools in Eastern Time cannot start before 1 p.m., Central Time 12 noon, Mountain Time 11 a.m., and Pacific Time 10 a.m. Please consider this when listing your available times on the registration form.
Details
Subject:

Earth Science, Geography, Geology, Glaciers, Physical Education, Physical Fitness, Physical Science, Tectonics

National/State Standards:

National Science Education Standards/Framework:

ESS1.C: THE HISTORY OF PLANET EARTH (if the geologic timeline extension activity is completed)

ESS2.A: EARTH MATERIALS AND SYSTEMS

ESS2.C: THE ROLES OF WATER IN EARTH'S SURFACE PROCESSES

Keywords:

geology, metereology, weather, glaciers, earth science, tectonics, physical education, physical science, subduction, geography

type:

Distance Learning
Experience More
on NPS.gov
Lesson Plans
Distance Learning
Field Trips
Topics