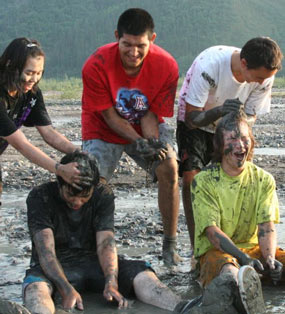 Photo courtesy Lee Bullington
NEW EXPERIENCES TO SHARE
As part of the outreach leading up to the series, Denali was one of 35 recipients of a grant to foster community engagement and tell authentic, untold stories from new and underserved park audiences. The project was made possible in part by a grant from the National Park Foundation through the generous support of the Evelyn and Walter Haas Jr. Fund and the Popplestone Foundation.
This July, seven native high school students from Anchorage spent three days at a field camp in the backcountry. The students are all active members of MEDIAK, a media skills development and outreach program hosted by the Cook Inlet Tribal Council, in association with Title VII Indian Education program in the Anchorage Schools. Their instructor is Lee Bullington, with the assistance of Andrew Byrd.
Grant funding provided each student with a pocket camcorder to record their experiences. The park has since produced a highlight reel from all of the hours of footage captured from the different student perspectives.
FRESH EYES (Time 6:45)
After they returned home, the students themselves produced videos and slideshows about their time in the park.
The students also recorded and produced highlights of an interview with Ken Burns at MEDIAK when he visited Anchorage on June 18, 2009 (Time 03:43).
Listen to a KUAC-FM Fairbanks NPR news story about the field camp that aired on July 15, 2009
Or watch the students as they are featured in a new park video about sustainable features at the Eielson Visitor Center.