Road Open To: Mile 3 (Park Headquarters)

The Park Road is currently open to Mile 3, Park Headquarters. Wintry conditions beyond that point prevent vehicle travel, though pedestrian travel is permitted. More »
Welcome to Denali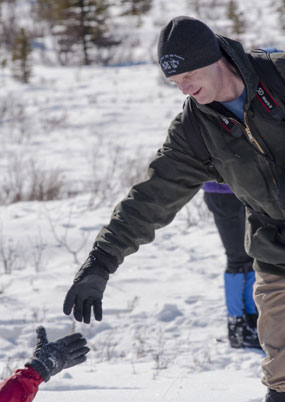 NPS Photo
Welcome
Whether you've already reached the park entrance, or you're still planning on it, this short video offers important information and insights about how to make the most of your experience in this special place. (Open captions. Running time 03:26)

Duration:

3 minutes, 26 seconds

Credit / Author:

NPS/Jay Elhard

Date created:

2010-09-02
Ranger Rick Pope, a CODA and RID-certified interpreter at Denali, describes a variety of trip-planning pages on the park website that can be useful to deaf and hearing-impaired visitors. (Open captions. No audio. Running time 03:35)

Duration:

3 minutes, 34 seconds

Credit / Author:

NPS/Jay Elhard

Date created:

2010-09-05
Almost every visitor who comes to Denali hopes to experience wildlife up close. If it happens for you while you're out walking or cycling, the park has expectations about how you need to conduct yourself. This video covers what to do if you encounter moose, wolves and bears in the park. (Open captions. Running time 04:48)

Duration:

4 minutes, 48 seconds

Credit / Author:

NPS / Jay Elhard

Date created:

2013-02-26
We Want to Hear From You

Keep in touch with us on our social media sites, where you can share your stories of park adventures or live vicariously through our updates. You'll find us as DenaliNPS on:
Your Denali Story
. If you have a minute to spare, and a telephone, you can record a story that may soon appear here on the park website, with links from popular social media feeds.
Learn how you can
share your pictures
with the park
Stay in Touch: Blogs and Webcams



• Keep up with the park's sled dogs via the kennels blog

• Follow the progress of the park's research coordinator, Lucy Tyrrell, as she blogs about
walking the entire Park Road

•
See how the park looks right now via
webcam
Featured Items
Planning your trip to the park? Start with some of these key resources:


• Learn how to sight-see in the park by tour and shuttle bus


• Plan your day hike with an interactive frontcountry trail guide


• Find details about the park's annual road lottery


• Learn about the park's Artist-in-Residence program


• Find information for all
national parks in Alaska
Did You Know?

Small amounts of airborne pollutants from around the world arrive in Denali every year. Remoteness alone cannot protect the park's clean air. As global human population grows, it is likely that increasing global emissions will affect Denali's air quality.