Ranger Guided Tours
Ranger Programs
Daily 10:30 am

Come to our park for a daily ranger program during the summer (Memorial day to Labor day). Available at both the Huffman Prairie Flying Field Interpretive Center and Wright-Dunbar Visitor Center, a park ranger will offer a daily program at 10:30 am on various subjects that could include a neighborhood walk of the Wright-Dunbar neighborhood, the Wright memorial, Huffman prairie, the Wright bicycle company, Dunbar's poetry, and many other topics.
Bike-with-a-ranger 2014
Explore Dayton's national park on a ranger guided bicycle tour -a mode of transportation connected with the Wright brothers. Hear stories about the people and places that helped to make Dayton the birthplace of aviation. Visit the homes of Orville Wright and Paul Laurence Dunbar or learn about the history of Wright-Patterson Air Force Base. For details click here.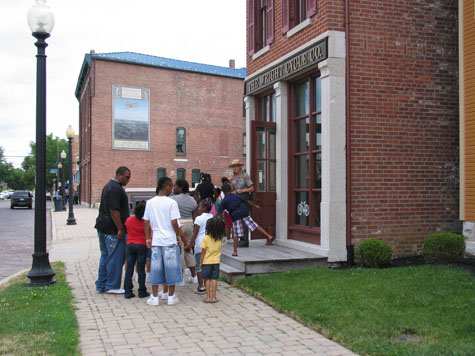 Ranger tours are available for your group or class upon request.
Groups need to make a reservation so that our rangers can accommodate your needs.
We have a long list of program topics to choose from.
For more information click here or contact our tour coordinator or call 937-225-7705.