Construction on I-75

I-75 north and south bound EXITS for FIRST and THIRD Streets are now CLOSED for construction. See Directions for alternative routes to our park. More »
For Kids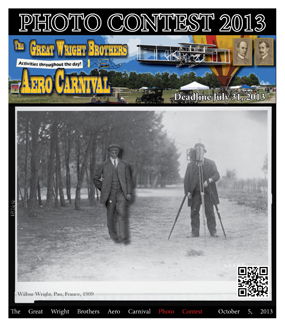 The Great Wright Brothers Aero Carnival Photo ContestOctober 5, 2013
Deadline July 31, 2013.
Three age categories: 7 – 12 years old 13 – 19 years old 20 years old and over
Categories for photos: 1). Aircraft (modern or historic), aviation facilities (airports, hangars, etc.), and events. 2). Aviation Trail sites or National Aviation Heritage Alliance sites, e.g., buildings, monuments and events. Photos must be original work taken within the National Aviation Heritage Area.
For more information go to www.aerocarnival.com
Looking for some fun things to do?
Click here to make a paper airplane.
Visit the Wright-Dunbar Interpretive Center or Huffman Prairie Flying Field Interpretive Center for Junior Ranger activities.
For more information about other programs click here or call 937-225-7705.


Did You Know?

In 1902, Wilbur and Orville Wright construct a 6-foot wooden wind tunnel which was used for measuring lift and drag on model air-foils.