Construction on I-75

I-75 north and south bound EXITS for FIRST and THIRD Streets are now CLOSED for construction. See Directions for alternative routes to our park. More »
Bicycling Information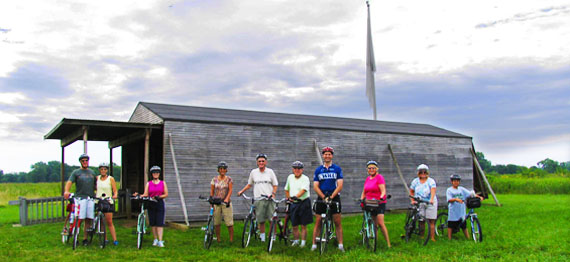 Bike-with-a-Ranger 2014 Tours
Explore Dayton's national park on a ranger guided bicycle tour -a mode of transportation connected with the Wright brothers. Hear stories about the people and places that helped to make Dayton the birthplace of aviation. Visit the homes of Orville Wright and Paul Laurence Dunbar or learn about the history of Wright-Patterson Air Force Base.

Aero Carnival BikeTour
McCook Field Tour
9:00 a.m. – 1:00 p.m.
Sunday, September 7
The ride will start out from the Huffman Prairie Flying Field Interpretive Center.
For more information call 937.225.7705 or 937.425.0008.


Other Important Information:
- To register for a tour contact us at 937-225-7705 or email at ryan_qualls@nps.gov
- All participants must register at least seven days prior to the start of each tour.
- Plan on arriving twenty minutes before each tour start for sign-in and orientation.
- Riders should be in good physical condition and feel comfortable shifting gears.
- Inclement weather may cause tour cancellation. Huffman Prairie may close
without prior notice because it is located on an active military installation.
- Participants are required to bring their own bicycles and personal gear, including
snacks or lunch.
- Proper wear of helmets is required. Please do not feed the rangers. :-)
- Bicycles should be in good operating condition and are subject to safety inspections.
Did You Know?

The Wright brothers continued their flying experiments here on this cow pasture in Dayton, Ohio in 1904 and 1905, perfecting their machine and building the world's first practical airplane.