Construction on I-75

I-75 north and south bound EXITS for FIRST and THIRD Streets are now CLOSED for construction. See Directions for alternative routes to our park. More »
Bicycling Information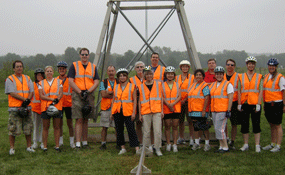 Bike-with-a-Ranger 2013 Tours
Explore Dayton's national park on a ranger guided bicycle tour -a mode of transportation connected with the Wright brothers. Hear stories about the people and places that helped to make Dayton the birthplace of aviation. Visit the homes of Orville Wright and Paul Laurence Dunbar or learn about the history of Wright-Patterson Air Force Base.
The 2013 Bike-with-a-Ranger tours have ended, but will gear back up next year.
Thanks for a great ride!
Did You Know?

Orville, Katharine, and Wilbur Wright travel to Washington, D.C. in 1909 at the request of President William Howard Taft. The Wright brothers were presented with the Aero Club of America medal at a White House ceremony.