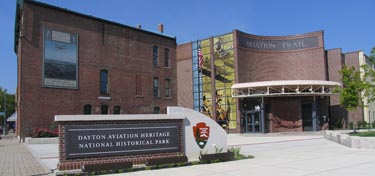 Tours of the National Park Interpretive Centers
A free, guided tour through our facilities can include our orientation movie plus hands-on displays. Teachers are required to stay with classes at all times, monitor student behavior, and assist with procedures. Large classes will need to be divided into smaller groups; each group must be chaperoned.
All groups are required to make a reservation prior to their visit. To schedule a visit for your school group via email click here or call us at (937) 225-7705 or (937) 425-0008.
Wright Cycle Company Complex
This tour will help participants discover the importance of the Hoover Block and The Wright Cycle Company building in serving as the locations of the mechanical development for the foundation of the first heavier-than-air flying machine. Participants will investigate the early careers of the Wright brothers by exploring the only original bicycle shop and print shop remaining in Dayton, while engaging in interactive exhibits and hands-on activities. Grades 2-12. 60-90 minutes (add another 30 minutes for the movie).
Huffman Prairie Flying Field Interpretive Center
This tour will allow participants to track the continuation of the Wright brothers' flying experiments here in Dayton, after Kitty Hawk, North Carolina through user-friendly displays. The center also includes interactive exhibits which follow the trajectory of aviation history in Dayton. Grades 2-12. 45-60 minutes (add another 30 minutes for the movie).
Huffman Prairie Flying Field
After their success at Kitty Hawk, the Wright brothers proved that flight was possible. But they needed to prove that flight was practical. It was here, at Huffman Prairie, that the brothers built the first practical airplane, the 1905 Wright Flyer III, and learned to fly. Participants will walk the actual flying field while retracing the brothers' footsteps through principles of flight. Grades 3-12. 60 minutes.