Lesson Plans & Teacher Guides
From Wheel to Wing
This curriculum guide was developed in partnership by Dayton Aviation Heritage National Historical Park and the Dayton Daily News Newspapers in Education (NIE) program as an outreach to students. This information focuses on the Wright brothers' work in Dayton, Ohio, which led to the invention of free, controlled and sustained flight in a power-driven, heavier-than-air machine.
Included is background information on the Wright brothers with guided questions, teacher instructions and six student activity sheets. A list of websites and books is also included. The activities are designed for grades 5-8.
Click here to download guide. (pdf format)
Where the Wright Brothers Conquered the Air
Click on the Teaching with Historic Places lesson plan to bring the Wright brothers to your classroom. The lesson will help students and educators discover the importance of the park as the location for the Wright brothers' mechanical development as well as a primary source for aviation history. This lesson could also be used in social studies and geography courses in units on technological and scientific advances at the turn of the 20th Century, aviation history, and great inventors.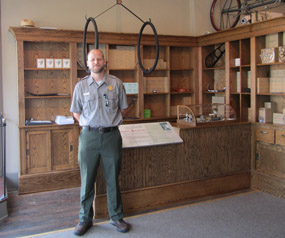 NPS photot
Discover Langston's place-based lesson plans
Langston Watras has been an art teacher for the Dayton Public School District for the last nine years and one year at Trotwood-Madison School District. He has also worked at photography studios and galleries. During his time as a Teacher-Ranger, here at Dayton Aviation Heritage, he performed as a ranger, instructing children and adults about the Wright brothers' accomplishments and Paul Laurence Dunbar's writings.
"As a Dayton resident and Dayton Public School employee, I believe that it is vital to the city's future that we educate our children about the great developments that have taken place here. If we can get our children to become excited about the people and events in Dayton's history, then we may help them visualize a better future," remarked Langston.

Download one of Langston's place-based lesson plans now: