What do
Bicycles, Airplanes,
Parachutes and Poetry
have in common?
Find out when you and your students visit Dayton Aviation Heritage. During your visit our education staff will provide
your students with the opportunity to explore the significance
of these creative ideas.

Call us today at 937-225-7705 and ask about our fun-filled curriculum-based programs offered throughout the year.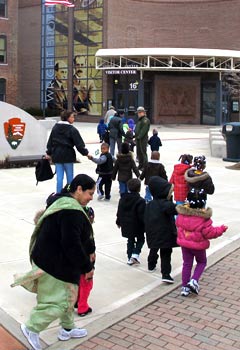 Features
1913 Flood

In the early morning hours of Tuesday, March 25, 1913, church bells rang and whistles blew throughout the city warning of impending disaster.

Read More

The Photography of Wilbur and Orville Wright

Witness Orville and Wilbur Wright's life through their camera lens as the photographs of the brothers are publicly displayed. Event is free of charge.

Read More

Visitor Center WINTER Hours

Winter hours for Dayton's national park visitor centers begin November 2014 and run through February 2015.

Read More