Hiking and Biking - Concerts - Tours - Activities - More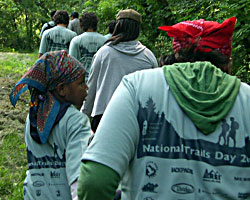 NPS Photo
The areas around the forts and linking parklands create a gorgeous oasis of green in an urban setting providing a respite from the hustle and bustle of city life. Not only can you hike and bike on your own, but you can join in on some of the exciting activities happening in the parks. Living history programs, lectures, and park clean-ups are just a few of the educational and fun activities to be discovered and enjoyed.
more...
Fort Dupont Ice Arena

Find out about indoor skating in Fort Dupont Park

AHS promotes and protects America's trails

Find out how you can help Read More
Did You Know?

When the Civil War began, Fort Washington was the only existing fortification for the capital's defense. Fort Washington, nearly 12 miles down the Potomac, was built to guard against enemy ships during the War of 1812.