Exploring the Civil War Defenses of Washington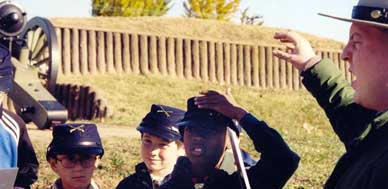 NPS Photo
The National Park Service Civil War Defenses of Washington sites are part of the open green spaces of the nation's capital. Traces of Civil War fortifications can be found along the hilltop ridge sourrounding the city and range from landmaks such as Military Road, where only the name suggests its origin, to partial reconstructions such as Fort Stevens, to the original "big guns" of Fort Foote. To see the National Park Service Civil War Defenses of Washington sites, consider planning a series of visits. Some of the surviving fortications can be visited on a driving tour, while for others you must hike into and explore park woodlands to locate remnant earthworks that have been reclaimed by the forest. Some park areas have no traces of fortifications. Click here for a list of fort sites and what you can expect to see when you get there.
Historic Map

Find a fort to visit Read More

Fort Ward and the Civil War Defenses of Washington

links to Fort Ward website
Did You Know?

During the Cretaceous Period, 120 million years ago, the Fort Foote property was swamp land, much different from today. Warm adapted plants such as Brachyphyllum crassicarde lived in this habitat (fossil photo to the right). As the climate began to change, this plant as well as many others died out.