Multimedia Presentations
A Letter from Fort Marcy
Read along with a civil war soldier as he writes home to his family from Fort Marcy. View the actual letter from 1862, and get a sense of what it was like to be a new soldier.
Click here for the letter
Trips for Kids Video
On April 21, 2007, Trips for Kids sponsored an Earth Day Bike Rodeo in Fort Dupont Park. Click here to check out the fun and learn about the park's partner, Trips for Kids.
Technical Requirements for the Multimedia Applications
Windows users should have the latest version of Internet Explorer installed. Mac users should have the latest version of Firefox, Safari or Netscape installed. There are a couple required plug-ins you will need on your system too, QuickTime and Flash Player. Please be sure you have the latest version of these plug-ins installed on your system.
It is important that you disable your pop-up blocker in your browser while on this site, otherwise, new windows containing featured items may not launch. Internet Explorer users, go to "Tools", "Pop-up Blocker", "Turn Off Pop-up Blocker". Safari users, go to "Safari", "Block Pop-Up Windows". This will either be checked or unchecked depending on your setting. Uncheck it. Your screen resolution should be at least 1024x768.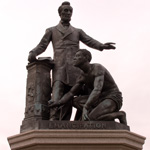 Fort Stevens and Battleground National Cemetery: Podcasts (mp3) self-guided walking tours
On these tours you will learn the role that the fort served during the Battle of Fort Stevens and Battleground National Cemetery, two of nine Civil War installations under the stewardship of Rock Creek Park.
more...
Did You Know?

During the Cretaceous Period, 120 million years ago, the Fort Foote property was swamp land, much different from today. Warm adapted plants such as Brachyphyllum crassicarde lived in this habitat (fossil photo to the right). As the climate began to change, this plant as well as many others died out.