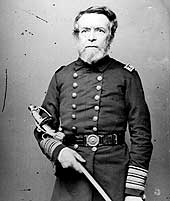 Photo Courtesy of the Library of Congress
In October 1862, Secretary of War Edwin M.Stanton appointed a commission to examine the efficiency of the Defenses of Washington. The commision evaluated each of the forts and made recommendations for improvements. Toward the end of the account, one gap was noted in defensive arrangement:
The commission furthers their opinion that the Defense of Washington cannot be considered complete without the defense of the river against an enemy's armed vessels. Foreign intervention would bring against us always in superior naval force on the Potomac, and we are, even now, threatened with Confederate iron-clads fitted in English Ports. The Commission believe on Jones' Point near Alexandria, a battery of six guns of the heaviest caliber, say four 200-pounders and two 15-inch guns in casements, and by constructing a battery of ten guns and a covering work on the opposite shore of the Potomac, at the near Roziers Bluff. An examination had been made, revealing a most favorable and strong position on that side, easily communicated with by water. Surveys are in progress.
The suggestion of the committee was accepted and the work on Fort Foote began at Rozier's Bluff in 1863. more...