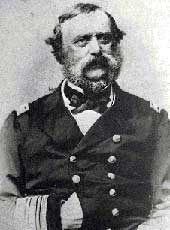 Photo courtesy of wikipedia.org
Fort Dupont was commenced between Ocotober and December of 1861 and "completed" in the spring on 1862. like most of the older works it underwent some modifications between 1861 and 1865. In the line concept of fortications over the Anacostia River, it functioned to cover the gap in the fortified ridge between Forts Mahan and Miegs. It was never a strong work and in 1862, a commission studying the Defenses of Washington, noted that a deep ravine to the west of the fort should be covered by a blockhouse. At other times traverses to cover the sally port and magazine and rifle pits to the cover approaches were recommended.
In April 1864, General Bayard advised the abandonment of Fort Dupont and in 1865 the fort was closed and site reverted to its original landowner, Michael Caton.more....
Link to Fort Dupont for more information about events, concerts, hiking and the historic earthworks.

---
Do you live near Fort Dupont
? Learn about the
African American Civil War Descendants Study
that the National Park Service is conducting in association with American University.
---