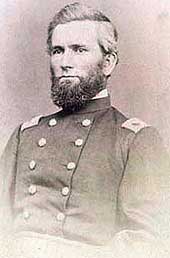 Photo Courtesy of www.taylorsbattery.org
Construction of Fort Chaplin began in 1864. Its function was to cover the flank of Fort Mahan and force an enemy to detour around Fort Meigs by prolonging the obstructed line to that fortification. The work was never fully armed nor was it garrisoned, but it was a relatively important fortification. Colonel Barton S. Alexander, the second Chief of Defenses, placed it among the second class of fortifications for purposes of retention. He believed that it occupied a position "which must be held when the city is threatened by a land attack."
The work was completed in 1864 and had 12 gun emplacements. Eleven of them were empty and a single 24-pounder siege gun mounted and set in position (en barbette) was the fort's sole armament.
Fort Chaplin has a perimeter about 225 yards and was built at the altitude of approximately 180 feet. There were no buildings at the site when the army turned it over to the original land owner, Selby B. Scaggs, in the summer of 1865.