Valley Bridle Trail Partial Closure

A section of the Valley Bridle Trail is closed across from the Brandywine Golf Course. There is no estimate of when this section will be open. Please observe all trail closures. More »
Plateau Trail Partial Closure

The outer loop of the Plateau Trail is closed at the Valley Picnic Area junction for bridge repair. The bridge is now unsafe for pedestrian traffice due to accelerated erosion around the base. More »
Bald Eagle Closure in Effect Until July 31, 2014

Returning bald eagles are actively tending to last year's nest within the Pinery Narrows area in CVNP. To protect the eagles from human disturbance, the area surrounding the nest tree will be closed until July 31, 2014. More »
Cuyahoga Valley Scenic Railroad (CVSR) Bridge Construction Closures

Rockside and Canal Visitor Center boarding sites will be closed through Apr 27. From Jan 18 - Mar 16, CVSR will operate between Akron Northside and Brecksville stations. From Mar 22 - Apr, CVSR will operate between Akron Northside and Peninsula. More »
Do Not Feed the Waterfowl and Birds!

Many people enjoy feeding waterfowl and birds, but the effects of this seemingly generous act can be harmful. Regular feeding can cause: unatural behavior, pollution, overcrowding, delayed migration, and poor nutrition and disease.
Closure on Fishing Will Remain in Effect for Virginia Kendall Lake

Due to the government shutdown, we were unable to survey the fish community in VK Lake as scheduled. Our survey partners (ODNR) will not be able to get into the lake until early spring of 2014. Therefore, the closure on fishing will remain in effect. More »
Fees & Reservations
Entrance Fees
Entrance to the park is free! While there is no official entrance fee at Cuyahoga Valley National Park, we encourage all visitors to support the park by donating to our friends group, the Conservancy for Cuyahoga Valley National Park. Click on this link to learn more.
Activity Fees
Cuyahoga Valley National Park charges admission to concerts and some additional programs.

Reservable Facilities
Cuyahoga Valley National Park has several facilities available for public rentals that can accommodate a variety of activities. For reservations contact the Conservancy for Cuyahoga Valley National Park at (330) 657-2909 ext. 119. For more information visit the facilities web page.
Reservable Picnic Shelters
The Ledges and Octagon Shelters in the Virginia Kendall Area are reservable by visiting the on-line national reservation system, www.recreation.gov and paying with a credit card.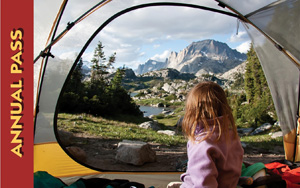 America the Beautiful - National Parks and Federal Recreational Lands Pass
Visitors may purchase the America the Beautiful - National Parks and Federal Recreational Lands Pass Annual, Senior, and Access passes at Boston Store Visitor Center. While these passes are not needed for a visit to Cuyahoga Valley National Park, these passes are accepted for entrance fees as well as some expanded amenity fees at other National Park Service areas as well as many other Federal lands across the country.
Annual Pass - $80 (Good for 12 months)
Annual Pass for U.S. Military - Free (Good for duration of military duty)
Senior Pass - $10.00 lifetime pass for U.S. citizens 62 years and older
Access Pass - Free lifetime pass for permanently disabled U.S. citizens
Volunteer Pass - Annual Pass awarded to volunteers whocontribute 250 or more hours
Call Boston Store Visitor Center at 330-657-2752 or visit www.nps.gov/findapark/passes.htm for detailed information and eligibility requirements for specific passes.




Did You Know?

American Indians in the Cuyahoga Valley were influenced by the Hopewell Culture, which created large mound complexes in central Ohio from 100 B.C. – A.D. 500? In the Cuyahoga Valley, American Indians built small mounds rather than large ceremonial centers.